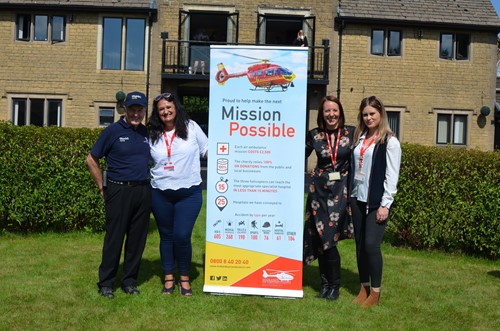 (Image caption: [L-R] Jonjo O'Neill with team members from Midlands Air Ambulance Charity, Nicole Beebee, Gloucestershire fundraising lead, Helen Stevens, communications and marketing manager and Abbie Hawkins, partnerships executive)
One of the UK's most successful racehorse trainers and former jockey, Jonjo O'Neill recently welcomed the team from Midlands Air Ambulance Charity and its guests to his Jackdaws Castle facility in the heart of the Cotswolds.
More than 50 guests, including local businesses and keen equestrian enthusiasts visited the legendary stables to get an insight into responsible racehorse training. They were given a tour by Ryan Tongue from Deva Racing and Jacqueline O'Neill, which included the stables, hydro pool, ménage and the gallops, before networking over brunch.
Nicole Beebee, Gloucestershire fundraising lead for Midlands Air Ambulance Charity, said: "We have a great affinity with the equestrian community as sadly our air ambulance advanced crews have to rapidly reach and treat a horse rider once a week on average. We were very privileged to visit Jackdaws Castle with Jonjo, Jacqueline and the team, and it facilitated a great deal of meaningful networking with some of our most supportive corporate partners and friends of the charity.
Jacqueline O'Neill from Jonjo O'Neill Racing, added: "We take great pride in our facilities, our team and of course our racehorses, and it was a delight to show everyone around the grounds, giving them an insight into the racing world. We strongly support Midlands Air Ambulance Charity, who have airlifted a number of renowned jockeys, giving them the best possible chance of survival and good recovery."
The event raised more than £650 for the charity, which will fund two missions by the charity's critical care cars.
Midlands Air Ambulance Charity attends an average of 13 lifesaving missions every day across the Midlands and Gloucestershire.
To find out more about Midlands Air Ambulance Charity's vital, lifesaving work in your local area, visit the charity website and follow the organisation on social media.