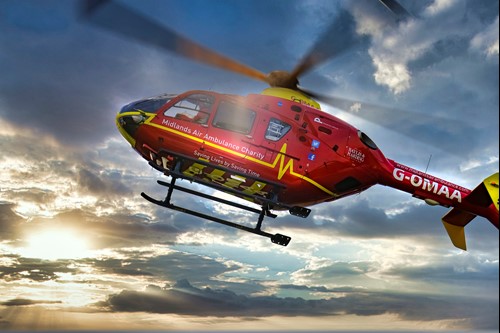 A charity that provides pre-hospital care to critically ill and injured patients is thanking generous COUNTY residents for 13 years of support for one of its most important fundraising schemes which has raised millions of pounds to help fund its vital work.
Midlands Air Ambulance Charity's Lifesaving Lottery – which sees people pay £1 per week to be in with a chance of winning cash prizes of up to £1,000 – marked its thirteenth year in 2022.
The decade-old fundraiser currently has 70,000 members generating more than 96,000 weekly chances in play each week – and now the pre-hospital service is asking the public to get involved and help the charity reach its milestone target of 100,000 plays every week.
Anyone aged 18 years and over can pay monthly, bi-monthly, bi-annually or annually and their support will help save countless lives in their local area.
Emma Wood, head of fundraising and marketing at Midlands Air Ambulance Charity, said: "Our Lifesaving Lottery scheme has been really popular since its launch ten years ago. Thanks to the generosity of our supporters, it generated £4.9 million last year alone which directly helped to make more than 2,000 missions possible.
"Taking part couldn't be easier - you can play online via our website, call our lottery office on 0844 567 0844 or sign up via one of our canvassers who operate across the six counties we cover. In doing so, not only will you help raise vital funds for our lifesaving pre-hospital service, but you will also be in with a chance of scooping the weekly top prize of £1,000."
Midlands Air Ambulance Charity operates and funds three air ambulances and three critical care cars covering Gloucestershire, Herefordshire, Shropshire, Staffordshire, the West Midlands and Worcestershire. It costs between £11-12 million a year to maintain the charity's three aircraft and three cars and provide a lifesaving service with each air mission costing an average of £2,950. Each critical care car mission costs an average of £288. Midlands Air Ambulance Charity does not receive any government or National Lottery funding and is entirely reliant on the support and generosity of local people and businesses.
Midlands Air Ambulance Charity is licensed and regulated in Great Britain by the Gambling Commission under account number 42471.
To find out more about Midlands Air Ambulance Charity's Lifesaving Lottery and to sign up for your chance to win £1,000 weekly, visit the midlandsairambulance.comLifesaving Charity'sLottery webpage.