TSB Bank branches based within Gloucestershire, Herefordshire and Worcestershire have fundraised and helped make missions possible for Midlands Air Ambulance Charity's lifesaving, pre-hospital emergency service through a range of charitable activities.
Staff have raised in excess of £2,100 funding nine missions in the charity's two critical care cars, one of which is based in Worcestershire and attends incidents in and around Gloucestershire and Herefordshire.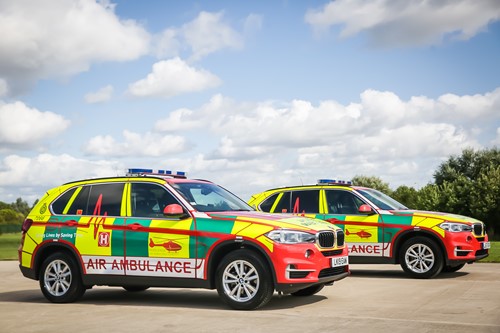 The TSB Bank branches initially started with Christmas collections throughout last year's festive period and have built on that encouraging customers to donate foreign currency to the Cash4Coins initiative, and more recently, TSB Bank staff have supported some of Midlands Air Ambulance Charity's fundraising events.
Kelly-Anne Archer, money confidence expert and community ambassador for TSB Bank's local branches, got involved with Midlands Air Ambulance Charity's corporate fundraising event, Jail or Bail. The event took place at Shrewsbury Prison and saw corporate supporter 'inmates' jailed for the night with the only way out being to raise a bail of more than £600. Kelly succeeded the target by raising £808, funding three critical care car missions.  
Kelly said of the experience: "It was fantastic with plenty of laughs and challenges along the way.
"At TSB, we are looking forward to getting involved in future fundraisers within our branches and with corporate events to support Midlands Air Ambulance Charity.
"We have had customers share stories of their experiences with the charity making the fundraising relatable; they are all interested in how we will fundraise next and how they can also get involved in supporting."
Nicole Beebee, Gloucestershire fundraising lead for Midlands Air Ambulance Charity, added: "The local branches of TSB Bank have been so supportive of our charity. Without the support of those in the local communities we serve, our daily lifesaving missions would simply not be possible.
"I was recently joined by two of TSB Bank's staff, who kindly volunteered at the Tewkesbury Classic Car Show and sold some of their own hand-knitted items, adding a further £56 to the fundraising total."
To find out more about Midlands Air Ambulance Charity's vital, lifesaving work in your local area, visit the website and follow the organisation on social media.
To find out more about the financial services TSB provides, please visit www.tsb.co.uk.