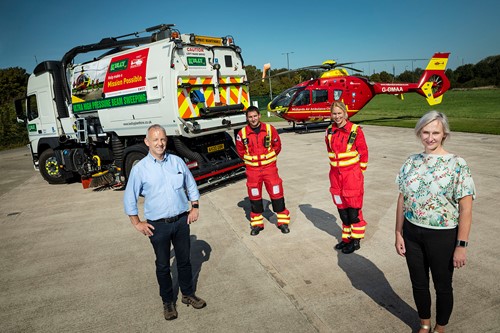 Kelly Plant Hire, a plant and sweeper hire company, located in Redditch, has been supporting Midlands Air Ambulance Charity for the past two years. In that time, it has raised funds for 13 of the charity's lifesaving missions.
The Worcestershire-based firm, which has over 30 years' experience specialising in high pressured rear suction sweepers, has raised over £5,250 for Midlands Air Ambulance Charity funding 13 of its rapid response, pre-hospital emergency missions – one air ambulance and 12 by critical care car.
To reach this figure, Shaun Kelly, managing director for Kelly Plant Hire encouraged staff to get involved in supporting the charity in a range of ways. The firm fundraised by running marathons, supporting the charity's 2020 events calendar – including the Recognition Award and Charity Ball, Worcester Racecourse day and networking events – before they got cancelled due to the COVID-19 pandemic.
Kelly Plant Hire also promotes the lifesaving work of Midlands Air Ambulance Charity by displaying large vinyl signage on a number of its vehicles.
Shaun Kelly, managing director for Kelly Plant Hire said: "It has always been important to me and the team at Kelly Plant Hire to give back to charities that support the community where we are based.
"Midlands Air Ambulance Charity resonates with us as the team is made up of drivers who are out on the roads and or based on construction sites. We never know when one of us may need the support of the air ambulance."
Pam Hodgetts, corporate partnerships manager for Midlands Air Ambulance Charity, added: "It's thanks to the generosity of local businesses in the communities we serve, that we are able to continue saving the lives of some of the Midlands most critically-ill and injured patients.
"Kelly Plant Hire is an outstanding example of how a corporate partner can provide the charity with support in a variety of ways. Not only does Shaun and his team make regular monetary donations, they also help raise our profile by displaying our branding which gets exposure across the region."
To find out more about the services offered by Kelly Plant Hire, visit: www.kellyplanthire.co.uk
For more information on corporate partnership opportunities with Midlands Air Ambulance Charity, visit: midlandsairambulance.com/corporate and follow the organisation on social media.
Image caption: (L-R) Shaun Kelly of Kelly Plant Hire, critical care paramedic, Colin Apps, HEMS doctor, Dr Katie White and Pam Hodgetts, corporate partnership manager for Midlands Air Ambulance Charity.