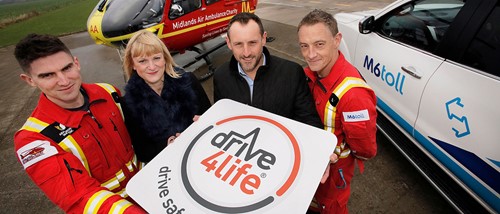 Midlands Air Ambulance Charity is calling on fleet managers to support its latest drive to raise awareness of road safety.
According to research, company car drivers spend more than two-and-a-half hours in their car during a typical working day - the equivalent of nearly three years of their working life in the drivers' seat - with drivers travelling an average of 235 miles a week, nearly half a million miles over the course of their career.[1]
As the number of road traffic collisions (RTCs) attended by Midlands Air Ambulance Charity continues to rise each year, the emergency pre-hospital service has launched 'Drive4Life' in partnership with M6toll. The campaign highlights the increasing cost of RTCs to the charity and urges fleet managers to invest more time delivering fleet driver training in a bid to improve driving standards.
Each vitally important air ambulance mission costs Midlands Air Ambulance £2,500 which is funded through the generosity of local businesses and the communities it serves.  In 2018, the charity attended 672 RTCs, which cost the charity a staggering £1.68million.
Ian Roberts, air operations manager for Midlands Air Ambulance Charity, said: "Due to the nature of our operation, and the ability to bring enhanced pre-hospital care to the roadside, critical care paramedics and doctors are often called out to some of the most badly injured patients involved in road-related incidents.
"Unfortunately, there is an upward trend in the number of RTCs we attend year on year, which has a cost impact on the charity. For example, in 2017 we saw a 23 per cent increase in RTCs, which equated to almost two per day, and this figure rose once again in 2018."
Emma Gray, fundraising and marketing director for Midlands Air Ambulance Charity, said fleet managers have an important part to play in helping to reduce these rising RTC figures. She comments: "RTCs can cost companies thousands of pounds in repair bills and rising insurance costs and while we're aware that many fleet managers are committed in delivering staff training, we feel more can still be done.
"Ongoing, regular fleet driver training for heavy road users will remind drivers about the perils associated with spending vast amounts of time in their cars which as we know, can impact hugely on concentration. Indeed, Government research[2] suggests that almost 20 per cent of accidents on major roads are sleep-related with driver fatigue alone a huge issue for fleet managers."
Due to the rising number of RTCs the aircrew attend each year, the cost to the charity is naturally on the rise too. As a service, which operates solely on donations, it's extremely important the organisation continues to raise funds to ensure it can respond to these patients in their critical hour of need. With the support of fleet managers, Midlands Air Ambulance Charity can keep road safety at the forefront of employees' minds, which the service believes will go some way in helping to tackle these escalating figures.
James Hodson, director of motorway operations at M6toll, concludes: "While statistically the M6toll is one of the safest motorways in the UK, we are always grateful for the lifesaving support of the Midlands Air Ambulance when accidents do occur.
"We are so proud to support this valuable campaign, helping to communicate vital road safety messages to drivers across the Midlands and beyond and we'd urge fleet managers to do the same."
To find out more about the Drive4Life campaign, visit at www.midlandsairambulance.com/drive4life
[1] Source: Škoda fleet research
[2] Source: https://telematics.tomtom.com/en_gb/webfleet/blog/driver-fatigue/