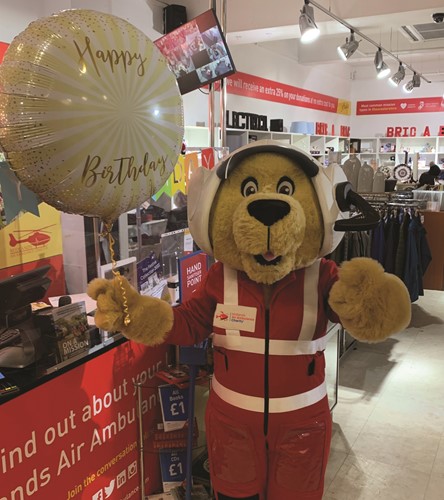 Midlands Air Ambulance Charity is excited to celebrate the first anniversary of its Gloucester charity shop, situated in the Eastgate shopping Centre, which opened on 7th December 2021.
Within the last 12 months, the shop has sold more than 37,000 items, which has funded 39 air ambulance and a further 34 critical care car missions across Gloucestershire.
Among the items sold since opening, shoppers have bought more than 9,000 items of clothing, 5,000 books and a further 5,000 DVDs, CDs and vinyls. They've also generously given more than £3,250 in cash donations, which helps the pre-hospital emergency medicine doctors and critical care paramedics rapidly reach and treat those in critical need in the county every week.
The shop team was delighted to see the support for the shop's first birthday, including Wagamama delivering free lunches to staff and volunteers at the end of November.
Anil Gupta, head of retail at Midlands Air Ambulance Charity said: "It's been brilliant to see our Gloucester Shop go from strength to strength as we celebrate its first anniversary. The generous support from local shoppers has meant our service can continue to operate in the region, delivering the very best pre-hospital care to those who need it most, so a big thank you goes to everyone who has supported us and helped make our missions possible."
To celebrate a successful first year, there will be a special offer of 25% off all furniture during the week.
The charity is also looking to recruit a team of dedicated volunteers to join the Midlands Air Ambulance Charity family. They will be helping on the shop floor as well as stock donations as we enter the busy festive shopping season.
For more information about volunteering, email Midlands Air Ambulance Charity's volunteer manager, Alison Hill via alison.hill@midlandsairambulance.com or call 0800 8 40 20 40.
Midlands Air Ambulance Charity can be found in the Eastgate Shopping Centre. Come in a browse the bargains on offer and donate your pre-loved goods to help stock the shelves and furniture department in store. Find out more by visiting the charity shop page.