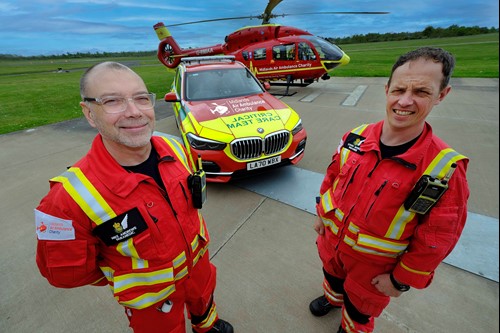 (Image caption: [L-R] Mike Andrews and Steven Mitchell, critical care paramedics for Midlands Air Ambulance Charity.)
Patients in Gloucestershire, Herefordshire and Worcestershire are already benefitting as Midlands Air Ambulance Charity's southern critical care car is now operating into the night to meet increasing demand.
The charity has changed its operational hours so that its vital lifesaving car will now run until 2am, allowing the team to attend a greater number of critical emergencies. In the first month of operation, the advanced clinical team has responded to almost 30 medical and traumatic incidents between the extended operating hours of 8pm and 2am. Seven of these call outs were to serious incidents, demonstrating the direct need for the expertise of Midlands Air Ambulance Charity's two critical care paramedics on-board. The car was dispatched to a variety of incident types including road traffic collisions, accidental injuries, assaults and medical conditions.
Previously the rapid response vehicle, based at the charity's Strensham airbase in Worcestershire, ran between 8am and 8pm with one specialist critical care paramedic on-board. Following analysis of the times of calls where patients are in critical condition and could benefit from the advanced treatment, surgical skills, medicines and hospital-level equipment rapidly brought to scene, the service now operates its southern critical care car between 2pm and 2am with two critical care paramedics.
Ian Jones, clinical operations director for Midlands Air Ambulance Charity, said: "We are committed to continuous improvement and delivering advanced patient care, which is why we constantly review patient data to ensure we provide the very best care to those who need it. When the research demonstrated that patients across Gloucestershire, Herefordshire and Worcestershire would potentially benefit from our expertise outside of our current operational hours, we knew we needed to adapt. This change of operating model has enabled us to attend those critically ill or injured via our southern critical care car beyond the times our air ambulance helicopters can fly."
Since April, the charity operates its lifesaving service 19 hours per day, rapidly bringing parts of the hospital to the patient in an average of just ten minutes. The operational day starts at 7am via helicopter from RAF Cosford in Shropshire and the central critical care car (covering Birmingham and the Black Country, at 8am via helicopters at the charity's Strensham airbase in Worcestershire and Tatenhill airbase in Staffordshire, from 10am via the northern critical care car (which covers Staffordshire and Shropshire) and at 2pm for the southern critical care car, covering Gloucestershire, Herefordshire and Worcestershire, which is also based at Strensham.
The critical care cars carry the same advanced lifesaving equipment as the helicopters, such as hospital grade ventilators and a mechanical CPR machine, known as the Lucas device and advanced analgesic and sedative drugs not carried on NHS ambulances.
Ian continues: "The way our clinical team provides patient care continually evolves. Thirty years ago, when we were first founded, our aim was to take the patient to the most appropriate hospital as swiftly as possible with timely interventions to preserve life. Fast forward to today and we aim to bring critical care rapidly to the patient, giving them the best possible chance of survival and good recovery before we leave the incident scene.
"We can deliver this exceptional care via helicopter or critical care car and we are proud to extend our availability into the night, which is already proving to be an effective service within the southern counties we cover."
Find out more about Midlands Air Ambulance Charity and its fleet of three air ambulance helicopters and three critical care cars via the missions page on the charity's website and follow the organisation on social media.