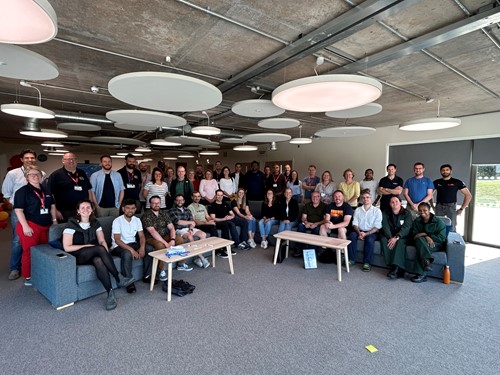 Twenty-four doctors and advanced clinical practitioners from across the country travelled to Midlands Air Ambulance Charity's new airbase and headquarters, to join 15 faculties from across UK & Ireland at the European Trauma Course (ETC) in September.
The three-day course, at the charity's new facility on the Shropshire / Staffordshire border, brought together clinicians from key hospital specialties involved in the immediate stabilisation of major trauma patients on arrival in hospital, focusing on technical and non-technical skills required to optimise patient care. Running for over ten years, the course covers key aspects of trauma management, such as advanced airway management, head injury, paediatric injury, spinal injury and more.  
Hosted in Midlands Air Ambulance Charity's new clinical training suite, the course included scenario workshops, each focusing on specific areas of trauma, growing in complexity to meet patient needs as the course progressed. In addition, the charity's immersive simulation suite, supported by The Kildare Trust, was utilised throughout the training, using the charity's facilities and equipment that is some of the best available in the industry. 
Adam Low, pre-hospital emergency medicine doctor at Midlands Air Ambulance Charity and Medical Director for this European Trauma Course, said: "The ETC provides a valuable team-based approach to immediate trauma management, providing an environment to learn technical and non-technical skills that are integral to real life situations. It was a privilege to be able to host the course-at our state-of-the-art clinical training suite, inviting fellow advanced clinical practitioners for training to support the wider quality of trauma care nationally."  
After receiving a positive response from the group of delegates that attended, the charity is hoping to host another European Trauma Course in spring 2024. 
Learn more about the European Trauma Course at europeantraumacourse.com  
To make an inquiry about booking a bespoke training course at Midlands Air Ambulance Charity, please contact education@midlandsairambulance.com.