Midlands Air Ambulance Charity is pleased to announce the promotion of aircrew team leader and critical care paramedic, Jim Hancox, to the position of assistant air operations manager.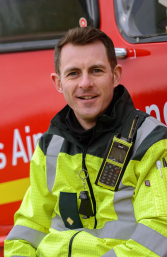 Jim has over 17 years' experience with the ambulance service, and has served with Midlands Air Ambulance Charity since 2006. Jim will support the charity's air operations manager, Ian Roberts, with a number of responsibilities in line with the charity's mission to offer advanced clinical care to those in critical need in the pre-hospital environment 365 days a year.
Ian Roberts, air operations manager for the charity, states: "We have three helicopters and three rapid response vehicles operation across six Midlands counties, and more recently we have added two critical care cars to our asset-base to support patient care in the region. The expansion of our service, to enable us to reach and treat over 1,000 more patients each year led to a requirement for further senior-level operations support.
"Jim has shown clear leadership, strategic thinking and clinical excellence throughout his work with the service, and will be an invaluable member of the operations team."
On his new position as assistant air operations manager, Jim added: "Delivering the highest level of clinical care to critically ill and injured patients is something I am hugely passionate about. I am extremely proud to take on this challenging new role, supporting the future development of our organisation and ensuring that Midlands Air Ambulance Charity remains at the forefront of emergency pre-hospital patient care, offering the very best treatment to patients."