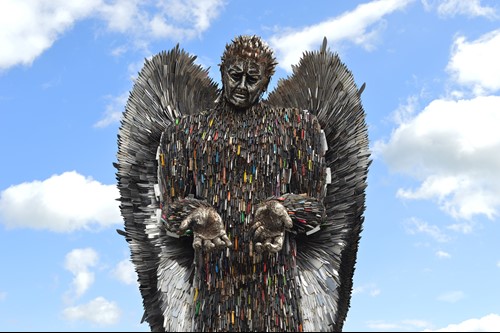 (Image caption: The Knife Angel. Image courtesy of Lichfield District Council)
Midlands Air Ambulance Charity, which is the primary air ambulance for Staffordshire and Stoke-on-Trent, is raising awareness of its vital bleed control skills sessions following the arrival of the iconic 'Knife Angel' this month.
As part of its National Youth Anti-Violence Tour, Alfie Bradley and The British Ironworks Centre's Knife Angel is situated on the open space adjacent to District Council House in Frog Lane, Lichfield for the duration of July 2023.
The 27-foot-high sculpture made from 100,000 seized blades tributes to the lives lost through thoughtless actions, while highlighting the negative side effects of violent and aggressive behaviour. 
During 2021/22, the neighbouring police force for Lichfield, West Midlands Police Force, recorded the highest rate of 152 offences involving a knife per 100,000 the population it serves. Of the missions involving sharp objects Midlands Air Ambulance Charity attended in the county of Staffordshire, more than ten per cent involved someone under the age of 16. In light of the Knife Angel visit, the charity is raising awareness of its bleed control skills sessions that it provides to schools, businesses and community groups across the region.
Midlands Air Ambulance Charity has also recently implemented one of its Bleed Control Kits in its local charity shop, situated on the Newcastle-under-Lyme high street. 
Hannah Justice, Staffordshire fundraising executive for Midlands Air Ambulance Charity, said: "The visit from the Knife Angel sculpture is a poignant reminder of the growing concerns around knife crime in Stoke-on-Trent and across the wider Staffordshire region.
"At Midlands Air Ambulance Charity, we are committed to building awareness of not only the effects of knife crime, but how to rapidly respond to knife-related injuries should our community ever need to. Catastrophic bleed control is an integral part of our Mission Support skills sessions we provide across the county, where we demonstrate how to use a bleed control kit in the event of an emergency, giving bystanders the skills and confidence to assist before we even arrive on scene."
The Knife Angel will be in Lichfield until 31st July alongside a series of events, workshops, and other activities across the city.
Find out more about the charity's Mission Support sessions and how to book a place, by visiting midlandsairambulance.com/education.
Learn more about Midlands Air Ambulance Charity by visiting the website and following the organisation on social media.