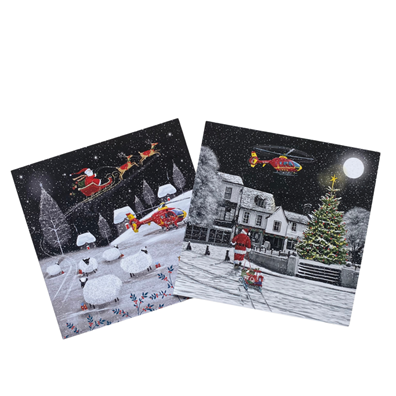 Midlands Air Ambulance Charity's Tatenhill airbase in Staffordshire will open to the public for just one day for a pop-up Christmas shop selling cards and the charity's sought-after merchandise.
On Sunday 26th November, between 10am and 2pm, the pop-up festive shop will be stocked with all of Midlands Air ambulance Charity's festive merchandise range including Christmas cards, new novelty helicopter socks, plushie helicopters and critical care cars, Kids' Christmas colouring packs and stationery for the new year including diaries, calendars, and even new notebooks.
Jo Bailey, fundraising and events manager for Midlands Air Ambulance Charity said: "With so many popular items in our festive merchandise range, we wanted to give the public every chance to browse and buy our affordable items, which is why we are opening a pop-up shop at our operational airbase at Tatenhill. We will have plenty of merchandise in stock for those looking to buy gifts, stocking fillers and Christmas cards.
"We hope the people of Staffordshire can come along to browse our stock and spare some change to help us make Christmas missions possible."
Read more about the Christmas Pop-Up Shop here
To find out more about Midlands Air Ambulance Charity's lifesaving work, visit the website and follow the organisation on social media.