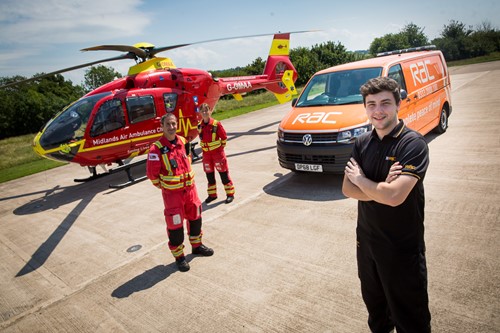 As part of the RAC's continued partnership with Midlands Air Ambulance Charity, the company has launched a new affinity scheme, offering anyone associated with the charity a discount on breakdown cover when bought through a dedicated website.
The partnership means that not only could drivers save up to 40% on breakdown cover* but for every policy purchased through rac.co.uk/uk-join/maac the RAC will make a contribution of £25 to the Midlands Air Ambulance Charity.
RAC has been supporting the vitally important service since 2019 and has raised over £20,000 for the charity to date through various staff fundraising initiatives, including an abseil, a Christmas market, raffles and football tournaments. RAC is also due to be the main sponsor at the 2021 Bike4Life Ride out and festival.
This affinity scheme is part of the RAC's continued commitment to supporting one of the region's most-loved charities and is being launched during the summer months when lockdown restrictions are gradually eased and drivers are able to make longer trips and, in some cases, overnight stays once again.
Emma Gray, fundraising and marketing director for Midlands Air Ambulance Charity, said: "There is an upward trend in the number of road traffic collisions our aircrew attend year-on-year, which has a direct impact to the charity's operational costs. On average, we now attend two road traffic collisions per day.
"We are grateful for the continued support that our mutually-beneficial charity partnerships provide us with, like the one built with the RAC. Their support will ultimately help save even more lives across the region."
Mark Burrows, director of Wholesale Operations, Business Roadside for the RAC, added: "Midlands Air Ambulance Charity plays a vital role in the region and we're pleased to be able to support them with this new partnership, which sees us making a donation every time a driver buys breakdown cover through this new website."
To find out more about the affinity scheme, either call The RAC on 0330 159 8730 or visit: rac.co.uk/uk-join/maac
For more information on the RAC and all types of cover and policy it offers, visit: rac.co.uk.
*Savings on personal based cover for new customers only. Max saving on Roadside, Recovery, At Home and Onward Travel (equivalent to Unlimited cover plus Onward Travel on rac.co.uk), on an annual continuous basis. No discount on Roadside and At Home. Discounts on other cover levels vary. Prices correct as of 28.05.2020.
________________________________________
Breakdown cover arranged and administered by RAC Financial Services Limited (Registered No 05171817) and provided by RAC Motoring Services (Registered No 01424399) and/or RAC Insurance Ltd (Registered No 2355834). Registered in England; Registered Offices: RAC House, Brockhurst Crescent, Walsall WS5 4AW. RAC Motoring Services and RAC Financial Services Limited are authorised and regulated by the Financial Conduct Authority in respect of insurance mediation activities. RAC Insurance Ltd is authorised by the Prudential Regulation Authority and regulated by the Financial Conduct Authority and the Prudential Regulation Authority.