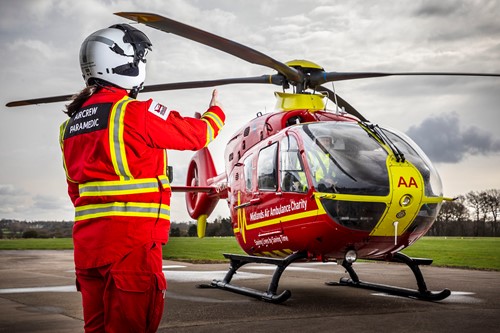 Renowned for developing mutually-beneficial relationships with its corporate partners, Midlands Air Ambulance Charity has joined the Asian Business Chamber of Commerce, to help further companies in the region achieve their corporate social responsibility objectives.
"We are members of a number of chambers across the six Midlands counties we serve and are therefore delighted to join the Asian Business Chamber of Commerce. The team and I look forward to networking with fellow members, as well as taking advantage of the resources and expertise available via the chamber," states Emma Gray, fundraising and marketing director for Midlands Air Ambulance Charity.
The vitally-important charity delivers advanced pre-hospital clinical care to people in a critical time of need, via one of three air ambulance helicopters and two critical care cars across the Midlands. No one expects to need an air ambulance, but sadly on average ten people rely on the expertise of the critical care paramedics and doctors, who provide them with the best possible chance of survival and recovery.
Gray adds: "As a pre-hospital rapid response service entirely reliant on donations to fund our daily lifesaving missions, we pride ourselves on supporting our longstanding corporate partners, creating meaningful relationships to help raise their profile, develop employee engagement and achieve their business objectives. As a Chamber of Commerce award-winning charity, we aim to extend this support to further companies across the region, through our connection with the Asian Business Chamber of Commerce."
Anjum Khan, director for ABCC, added: "We're delighted to welcome Midlands Air Ambulance Charity on-board as ABCC members. The work that the charity does is of vital importance, and we at the ABCC are keen to promote and support them in their mission."