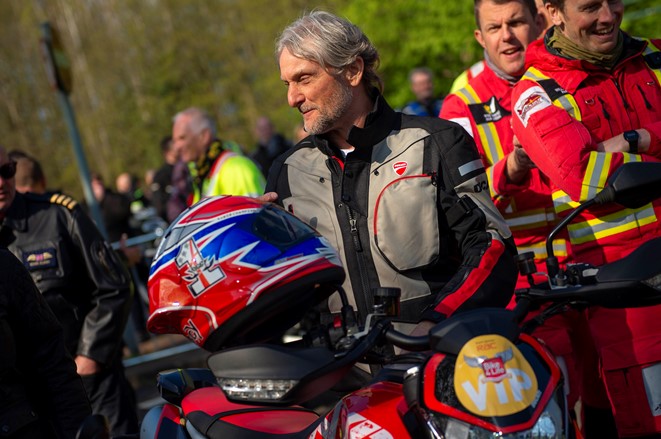 (Image caption: VIP Biker Carl Fogarty MBE gearing up at the start of the 2022 Bike4Life Ride Out.)
Following the success of the tenth anniversary Bike4Life Ride Out and Festival, the event will return for another year on Sunday 23rd April 2023, with a new sponsor in place.
The Bike Insurer, a British motorbike insurance comparison site, has announced its support of the lifesaving Midlands Air Ambulance Charity by becoming the official headline event sponsor for the pre-hospital emergency service's Bike4Life 2023 Ride Out and Festival.
This year's Bike4Life Ride Out and Festival – now in its 11th year – returns to Shropshire's roads on Sunday 23rd April. The event has become one of the biggest and most popular charity Ride Out and Festival motorbike experiences in the country. It typically attracts 3,500 motorbikes on the ride out and more than 10,000 visitors to the Festival. As Midlands Air Ambulance Charity rapidly reaches a motorcyclist every week on average, the event is not only a great day out but also aims to promote biker safety, with support from West Mercia Police.
The 23-mile ride starts at Meole Brace in Shrewsbury and finishes at RAF Cosford airfield, home to one of Midlands Air Ambulance Charity's strategic airbases and the Bike4Life Festival.
A host of celebrity and professional bikers were in attendance at last year's event including Carl 'Foggy' Fogarty MBE, Steve Parrish, Dougie Lampkin MBE, Ollie Ollerton and Danny Buchan. This year's VIPs will be announced during the coming weeks.
Ed Bevis, commercial and marketing director for The Bike Insurer, said: "We know better than most that bikers are amongst the most vulnerable road-users. After attending the charity's event last year, we were blown away with everyone's commitment in recognising Midlands Air Ambulance Charity's vital work in treating motorcyclists.
"We soon realised we wanted to show our support and we couldn't be prouder to be the main sponsor for the 2023 Bike4Life event."
Emma Wood, head of fundraising and engagement for Midlands Air Ambulance Charity, added: "We are delighted to have the backing of The Bike Insurer – there couldn't be a more fitting sponsor for this year's Bike4Life event. We hope the biking community turn out in force once again this year to raise as much money as possible for our pre-hospital lifesaving service."
To find out more about the event and to book tickets visit the Bike4Life website. Tickets are now on sale for the Ride Out costing £15 per biker, or £20 for a biker and pillion. Both include free entry to the Bike4Life Festival. Tickets for the Festival alone are just £5 per person and those aged 15 and under go free.
To find out more about Midlands Air Ambulance Charity's vital, lifesaving work in your local area visit the website and follow the organisation on social media.
For information on The Bike Insurer or to compare motorbike insurance quotes visit thebikeinsurer.co.uk.