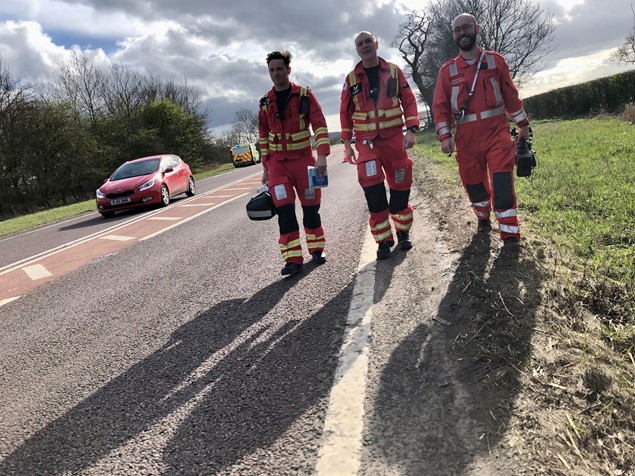 This September, Midlands Air Ambulance is hosting its first online Facebook fundraiser and is encouraging members of the public to walk 12,000 steps a day to help raise lifesaving funds.
The Walk4Life Challenge – which will see participants walk 12,000 steps per day for a month to support the average of 12 patients the charity is called out to daily – aims to  raise funds to support the charity's mission to provide critical care to those in need.
The virtual event will run from 1st –30th September and the daily walks can take place anywhere at any time. The sponsorship funds raised through the 12,000-steps a day challenge will help fund Midlands Air Ambulance Charity's daily missions, rapidly reaching and treating those in critical need. On average, Midlands Air Ambulance Charity attends 12 missions a day on average, and each mission requires the expertise of our specialist clinicians, advanced equipment, and lifesaving medications. Those who sign up to take part in Walk4Life will help ensure this lifesaving service can continue to bring vital care to those who need it most.
People can get involved in the Walk4Life Challenge by registering online through Facebook and tracking their steps daily throughout September. Once participants have reached £40 in sponsorship, they will receive a free Midlands Air Ambulance Charity supporter t-shirt.
By joining the Charity's online community group on Facebook, participants will be able to speak with others taking part and encourage each other along the journey. Every step taken will bring Midlands Air Ambulance Charity closer to its goal of providing exceptional care to those in need.
Speaking about the Walk4Life Challenge, Emma Wood, head of fundraising and engagement for Midlands Air Ambulance Charity, said: "We are incredibly grateful for the support we receive from the communities we serve. By participating in the Walk4Life Challenge, you are directly contributing to our ability to respond to emergencies and save lives. Every step you take, and every pound you raise, will have a significant impact."
To register for the Facebook fundraiser challenge visit: bit.ly/3YgIqul
To join the Facebook community group, visit: bit.ly/454RUew