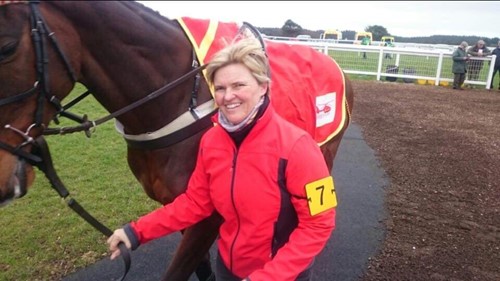 Demonstrating its support of Midlands Air Ambulance Charity, the team at Claire Dyson Racing and Rehabilitation, based in Cleeve Prior in Worcestershire, recently sponsored a race at Stratford Racecourse in honour of Charlotte Cole, former head girl for the yard.
This is the 11th year the specialist equine rehabilitation and fitness centre has sponsored a race to help raise awareness of and funds for Midlands Air Ambulance Charity in Charlotte's memory. Sadly, Charlotte was involved in a horse-related incident and was airlifted by Midlands Air Ambulance Charity, but later died in hospital.
The pre-hospital emergency service rapidly responds and provides advanced treatment to a horse rider in the area every week and therefore has strong links to the equestrian community.
The race, which took place at Stratford Racecourse early November, gave the team at Midlands Air Ambulance Charity the chance to raise profile of what the team bring to scene to give patients the best possible chance of survival. This includes the advanced skillset of the critical care paramedics and doctors, the enhanced medicines available and hospital-level equipment.
Charlotte Cole's parents, Roger and Diane Cole, were also in attendance to remember their daughter, alongside two of the charity's critical care paramedics, Julian Spiers and Karen Baker.
The race day, combined with a second even hosted by Claire Dyson in November, collectively raised £6,000 for the charity. This will help fund an air ambulance mission and ten further vitally important missions in the charity's critical care cars, providing advanced critical care to patients in need.
Claire Dyson, on behalf of Claire Dyson Racing and Rehabilitation and the Cole family, said: "Midlands Air Ambulance Charity is an organisation close to my heart and one I have supported for more than a decade. I am so pleased we have been able to raise a further £6,000 for the organisation. I would like to thank everyone who attended the day and supporting our fundraising activities."
Hanna Sebright, chief executive for Midlands Air Ambulance Charity, added: "The equestrian community is one of our most supportive groups due to the fact that we are often called to a horse rider in critical need of our advanced care across the Midlands region. Claire Dyson and her team have always been steadfast supporters of our vital service and we are exceptionally grateful for their on-going fundraising support during 2023, culminating in the recent race day sponsorship."
To find out more about Midlands Air Ambulance Charity's lifesaving work, visit the website and follow the organisation on social media.