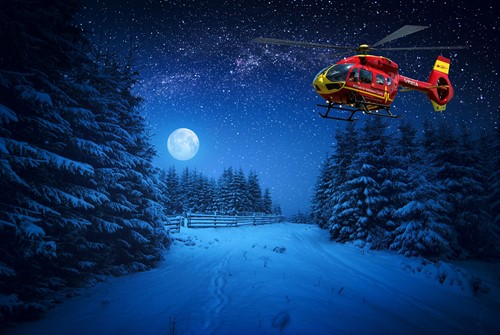 Memories of loved ones shine in the night sky through Midlands Air Ambulance Charity's fundraising initiative. 
Anyone who has experienced loss knows how important it is to have something they can remember their loved ones by, especially during the festive period. Midlands Air Ambulance Charity's festive 'Remember Your Star' campaign helps supporters pay tribute and celebrate the lives of those who are no longer with us.
The online fundraising page shows a beautiful night-time winter landscape with one of the charity's lifesaving aircraft flying among a series of stars. Each star can be dedicated with a poignant message from the donor to someone special who has passed away.
Supporters are dedicating virtual stars in memory of their loved ones in the lead up to Christmas, helping to raise vital funds for the rapid response emergency service.
All those who make a donation to the Remember Your Star campaign will receive a seeded card which can be put on their Christmas trees over the festive season then planted in the new year to keep the memories of their loved ones alive.
Emma Wood, head of fundraising and marketing for Midlands Air Ambulance Charity, said: "Christmas can often be a poignant time for those who are experiencing grief. Our Remember Your Star initiative offers time for reflection during the festive season while celebrating the lives of loved ones in a dignified way. Plus, our supporters will be directly helping to make future lifesaving missions possible, for which we are truly grateful.
"The flowers from our seeded cards come back year after year so, when they bloom, we hope they will provide comfort to those who are missing a loved one."
Remember Your Star is part of Midlands Air Ambulance Charity's wider 'In Memory Of' campaign, where people can leave a lasting tribute of their loved one. Last year, in memory fundraising raised more than £300,000, with Remember Your Star raising £5,000. This helped to fund 120 lifesaving missions carried out by the charity's specialist critical care paramedics and pre-hospital emergency medicine doctors. The charity hopes to surpass last year's total to maintain its critical service in line with inflation, aiming to raise funds to cover 150 missions in 2023.
People can make a donation and leave a tribute on the Remember Your Star page from now until 31st December. Donors can dedicate as many stars as they wish to let their loved ones shine bright.
To leave a star in the sky for Midlands Air Ambulance Charity, click here: www.emagiving.com/campaign/visual/maac-remember-your-star-2022
To find out more about Midlands Air Ambulance Charity's vital, lifesaving work in your local area, visit the website and follow the organisation on social media.