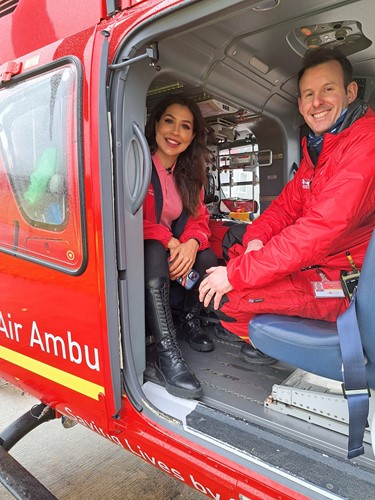 (Image caption: Ruby Rides (left) with Dr Mike McAlindon, pre-hospital emergency hospital doctor for Midlands Air Ambulance Charity)
A motorcyclist, popular social media influencer is the latest VIP to sign up to lead the popular Bike4Life Ride Out next month to raise funds for pre-hospital emergency service Midlands Air Ambulance Charity.
Ruby Rides has announced she will join Carl Fogarty MBE, Ollie Ollerton, Steve Parrish, and other biking VIPs in leading the 6,000-strong biker parade to RAF Cosford, home of the Bike4Life Festival, on Sunday 23rd April.
The Bike4Life Ride Out and Festival, which is sponsored by The Bike Insurer, has become one of the biggest charity Ride Out and Festival motorbike experiences in the country and one of the most important events in Midlands Air Ambulance Charity's fundraising calendar. The charity rapidly reaches an average of one motorcyclist every week - and so the event is not only a great day out, but it also promotes biker safety with support from West Mercia Police.
The 23-mile ride will start at Meole Brace in Shrewsbury and finish at RAF Cosford airfield, home to one of Midlands Air Ambulance Charity's strategic airbases and the Bike4Life Festival.
Ruby, who is a keen motorcyclist, is excited about taking part in her first Bike4Life Ride Out. She said: "I got into motorbikes more than ten years ago and haven't looked back since. I've done other biker meet ups with The Bike Insurer so, when I was invited to the Bike4Life Ride Out and Festival and having seen the cause behind it and the sheer scale of the event, I jumped at the chance to be there.
"I recently visited a Midlands Air Ambulance Charity airbase, chatted to the crew and got to see one of their helicopters up close. The whole experience really brings it home, as bikers we all know someone who was saved by the air ambulance and so it's so important to bikers and is vital that we support them. If you're a motorcyclist, please pre-register, as this event isn't to be missed."
Ed Bevis, commercial and marketing director for The Bike Insurer, said: "At The Bike Insurer, we are passionate about making bike insurance really simple and cost effective for our customers, and about enabling them to really enjoy their biking experience, which is why we are proud to sponsor Bike4Life.
"Ruby is a fantastic advocate for the biking community, so it is great to have her support at the Bike4Life Ride Out and Festival and in helping to raise awareness of this great day out with her online followers."
Emma Wood, head of fundraising and engagement for Midlands Air Ambulance Charity, added: "Ruby Rides is the first biker social media influencer to support our event in its 11-year history, so we are thrilled she's coming to capture the atmosphere on the day and lead one of the largest biker ride outs in the country."
To find out more about the event and to book tickets visit the Bike4Life website.
To find out more about Midlands Air Ambulance Charity's vital, lifesaving work in your local area visit the charity's website and follow the organisation on social media.
For information on The Bike Insurer or to compare motorbike insurance quotes visit The Bike Insurer website.