Burton-based Samble, Burton and Worth Solicitors is the latest firm to join up with Midlands Air Ambulance Charity to offer a Free Will Writing Service to members of the public.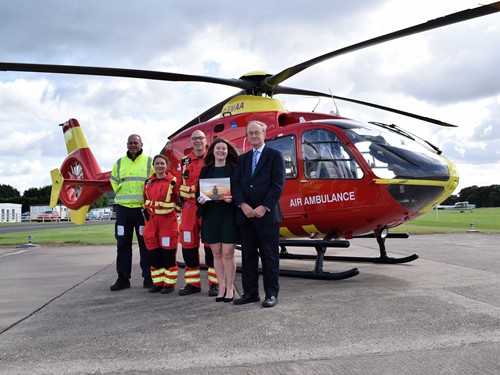 Samble, Burton and Worth is now one of 13 solicitors across the six counties, covered by the charity, to offer the popular scheme.
Since 1991, the charity has completed over 54,000 air ambulance missions, which, on average is 2,000 incidents each year, with four in every ten missions funded through a gift in a Will. The Free Will Writing Service has been developed to raise awareness of how vital this type of fundraising is and what a significant part it plays in saving lives.
Emma Gray, fundraising and marketing director for Midlands Air Ambulance Charity, explains: "Donations through a Gift in a Will play an increasing part in the funding of our lifesaving service, with approximately 40 per cent of all funds being raised from legacies. We want to ensure people across the Midlands who are considering making or updating their Will are able to do this without any cost. The service is available to everyone aged 55 and over, regardless of whether they are supporters of the charity or not. To enable us to do this, we have partnered with a number of leading firms within the Midlands, with Samble, Burton and Worth Solicitors being the most recent.
Mr Lionel Conner, partner at Samble, Burton and Worth Solicitors, adds: "As well as documenting a person's assets and belongings, a Will is always a good opportunity to leave a legacy gift to a good cause, such as Midlands Air Ambulance Charity. We are thrilled to be the latest partner working in collaboration with the charity to offer the Free Will Writing Service, especially as over 1,500 wills have already been created through the scheme to date."
The charity's Free Will Writing Service is available to those aged 55 and over.