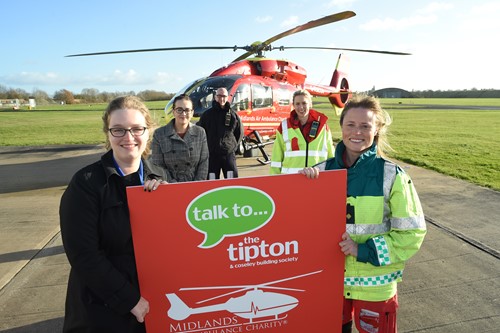 Tipton and Coseley Building Society's new savings account designed to help Midlands Air Ambulance Charity, has seen 96 new accounts opened during 2020, highlighting the great benefits the savings account has, especially with the effects of COVID-19 having an impact on the UK's economy.
The Tipton's 30 Day Notice Midlands Air Ambulance Saver supports the lifesaving service, which solely relies on support from the local people and businesses in the communities it serves to raise funds for the upwards of 3,500 missions it attends each year.
The 30 Day Notice Midlands Air Ambulance Saver has a minimum opening deposit of £1,000 and customers can pay in a maximum of £100,000 during the lifetime of the account. A variable interest rate of 0.5 per cent gross / AER applies and customers can make a maximum of three withdrawals per calendar year.
The Society pays 0.1 per cent to Midlands Air Ambulance Charity at the end of each year, based on the average balances held in the accounts at no cost to the saver.
Richard Newton, chief executive at The Tipton said: "We are pleased with how popular our 30 Day Notice Midlands Air Ambulance Saver is proving to be following the opening of 96 new accounts. Customers are earning interest on their savings whilst supporting Midlands Air Ambulance Charity and its vital lifesaving work."
Emma Gray, fundraising and marketing director for Midlands Air Ambulance Charity, added: "We are extremely grateful to The Tipton for developing a savings account in our name and continuing to show us its support throughout the COVID-19 pandemic. Our thanks also extends to those who have taken out the account to save money, which is in turn supporting our daily missions."
Terms and conditions apply. For further information, please visit: www.thetipton.co.uk/midlandsairambulance
*Gross means the contractual rate of interest payable. AER stands for the Annual Equivalent Rate and illustrates what the interest rate would be if interest was paid and compounded once each year. Products can be withdrawn at any time. Rates correct as at date of going to press.