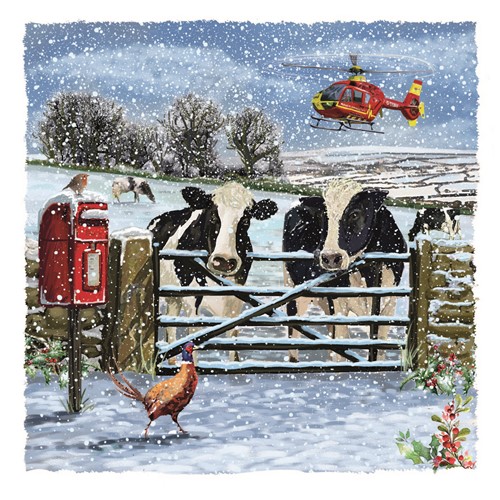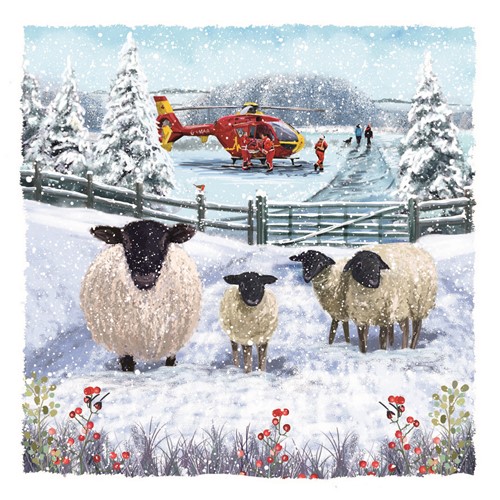 (Image caption: the Winter Farm and Sheep in the Snow pack of cards - three more design packs available.)
It's time to think about your Christmas shopping, and where better to start than Midlands Air Ambulance Charity's online shop, to make lifesaving missions possible, this Christmas. The charity expanded its range last year and has now added more items to its Christmas stocklist.
Emma Gray, chief operating officer for Midlands Air Ambulance Charity, says: "Last year, festive shoppers helped raise in excess of £55,000 for our pre-hospital emergency service by buying through our website. From this amount, 46 of our vitally important missions were funded – 13 air missions and 33 in our two critical care cars.
"We hope that shoppers show their support of our lifesaving charity this Christmas and help fund future missions across the Midlands and Gloucestershire."
All products in the Midlands Air Ambulance Charity's extended festive range for 2021 can be found on the online shop.
The new products include: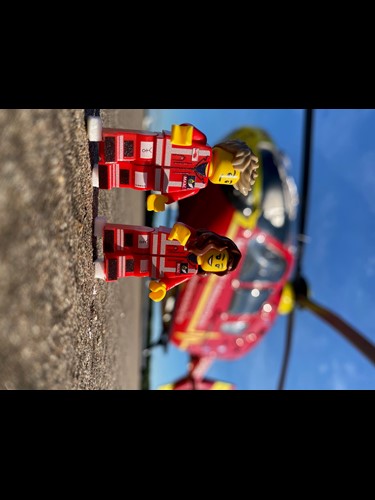 (Image caption: MAAC Mini Medics - new to the crew and selling for £15 each.)
Bag for A Life – A lifesaving shopper bag to keep all your purchases in.
Commemorative Air30 Cufflinks and Lapel pins – Midlands heritage jewellers, Deakin & Francis, have crafted just 100 of each, an ideal gift for collectors.
One Year's Lifesaving Lottery Membership – The opportunity to win £1,000, every week for a year. (Purchasers and recipients must both be aged 16 or over.)
Cross Stitch Pattern of the aircraft and crew members
Crowd Racing Membership – The opportunity to own shares in a racehorse for whole year – with a discounted price and £30 donation direct to the charity.
Remember Your Star by lighting the sky, leaving a tribute and making a donation in memory a loved one.
Commemorative Air30 30th Anniversary Poetry anthology – teaming up with The Word Association, a book of creative writing and poetry has been produced to provide a reflection of the charity's rich 30-year history. (Funded via a National Lottery project grant from Arts Council England.)
Commemorative diary and pen
Commemorative calendar and pen
New T-shirt design
Teddy bear with MAAC hoodie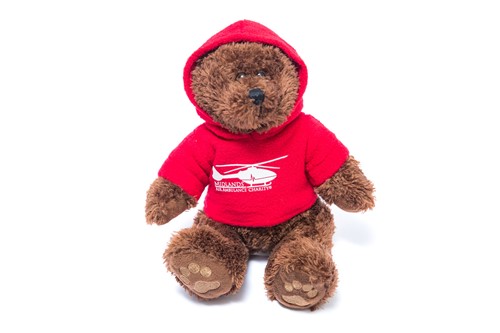 (Image caption: Maac the Bear comes dressed in a charity branded hoodie.)
Kids' Crew Membership – the fun pack includes a welcome letter, official certificate, invitations to meet the aircrew and to next year's Young Heroes Christmas Party, plus, a selection of charity merchandise. (Suitable for ages five to 11).
You can also get involved in aiding the charity's Christmas missions by texting: 'MISSIONXMAS' as one word, followed by the amount of your choice to 70085 to donate to the lifesaving service and help make future missions possible. An example is MISSIONXMAS 5 to 70085 to donate £5.
To browse and shop the range, visit: midlandsairambulance.com/shop
For updates on other charity activity, follow the organisation on social media.