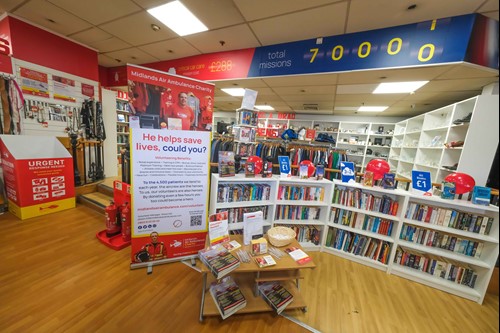 Over the last year, Midlands Air Ambulance Charity has prevented 31,053kg of textiles going into landfill due to local supporters donating their pre-loved goods to the charity's seven regional charity shops.
According to The Carbon Literacy Project, 10 per cent of annual global emissions comes from the consumption of fast fashion, with 300,000 tonnes going into landfill each year in the UK. It is also reported that fast fashion records 52 micro-seasons every year, releasing new collections weekly. As we enter the summer months, it is predicted that there will be a rise of material waste as people clear out their wardrobes and buy in the seasonal trends.
The charity is appealing for members of the public to shop sustainably this summer by donating their old items and shopping in store.
Charity shop purchases support the funding of the charity's vital pre-hospital emergency service, saving countless lives.
Anil Gupta, head of retail at Midlands Air Ambulance Charity said: "Our charity shops offer a sustainable alternative for people who are looking to buy their summer wardrobe but are conscious about the environmental and social impacts of fast fashion. Our charity shops are also a great way for shoppers to find high quality products at an affordable price, while generating funds to continue our future lifesaving missions."
"Our growing high street presence highlights how consumers are becoming increasingly savvy when their shop, seeing the benefits of shopping pre-loved and recycling their old clothing, furniture and electrical goods.
"With to new shops opening in Hereford and Stoke-on-Trent, our shops have become an integral part of our community, leaving a lasting legacy for both the health of our planet, and those who may need our critical care service."
To find out more about how to donate items to Midlands Air Ambulance Charity's shop, visit our high street shops page.
Find out more about Midlands Air Ambulance Charity, visit midlandsairambulance.com and follow the organisation on social media.