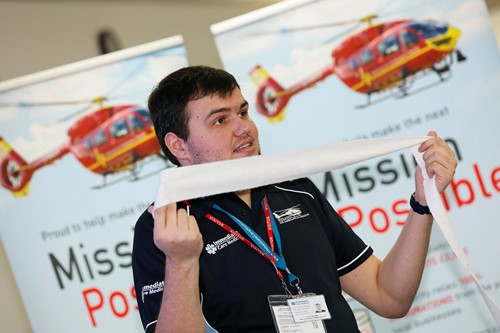 Phoenix Group, a leading savings and retirement business, is sponsoring Midlands Air Ambulance Charity's lifesaving CPR and Bleed Control Mission Support training programme for 18 months.
Phoenix Group has previously invited clinicians from Midlands Air Ambulance Charity into its local Wythall-based offices to provide staff with critical Mission Support training consisting of basic CPR skills and information on how to control severe bleeding wounds.
The sponsorship will enable the charity to continue providing the training to adults in businesses, organisations and community groups across the Midlands region.
Cardiac arrests and stabbing incidents were consistently ranked in Midlands Air Ambulance Charity's top five missions over the last 12-month period. Both types of incident require immediate bystander support before the arrival of advanced clinical care teams, such as Midlands Air Ambulance Charity's aircrews, to give a patient the best possible outcome and to increase their chances of survival.
While social distancing is in place, training will be delivered virtually, and once restrictions have been lifted, the charity will deliver Mission Support training across the Midlands region, providing local people with practical advice on how to undertake CPR and utilise severe bleed control techniques. In addition, the funding will provide each group that undertakes the free training with a bleed control kit, which contains items, including bleed control gauze and a tourniquet for limb injuries.
Emma Gray, fundraising and marketing director for Midlands Air Ambulance Charity, states: "From August 2019 to February 2020, 14 full days of our Mission Support training has been delivered to over 800 people. The programme offers two hours of crucially important lifesaving techniques for each person that takes part. As well as practical skills, each participant will receive an official certificate, and handy Mission Support pocket guide.
"The continued support we have received from Phoenix Group during the past six years of partnership has been integral in allowing our service to grow. By sponsoring our training programme, Phoenix Group is helping give back to its local community by enabling us to reach a greater number of businesses, organisations and community groups within the region, which could help save more lives in the Midlands."
Andy Moss, Heritage CEO at Phoenix Group said: "We're proud to support the vital work Midlands Air Ambulance Charity does on a daily basis and are delighted to be sponsoring the training programme which will ensure more people in the local area are able to help save lives.
"At the start of this year we extended our partnership with Midlands Air Ambulance Charity to the end of 2020, given the important role the charity is playing in the face of COVID-19. At a time when finances may be stretched it has never been more important for businesses, who are able to do so, to help their local charities."
To find out about Midlands Air Ambulance Charity's Mission Support Training, you can watch a video, here: https://youtu.be/RB5oQ4fZWJQ