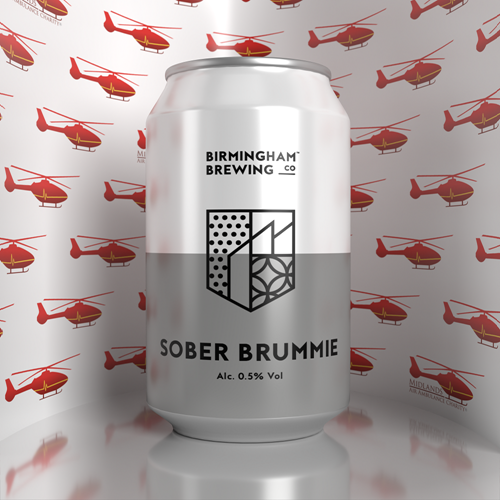 Midlands Air Ambulance Charity's corporate partner, Birmingham Brewing Company, attended the fifth edition of the London Beer Competition, where the team won both Non-Alcoholic Beer of the Year and Best Beer for Quality for Sober Brummie, its 0.5% alcohol brew that supports the charity's lifesaving missions.
The London Beer Competition is designed to applaud and award the beers that drinkers and beer lovers would enjoy choosing from a beer list of a pub or restaurant in the UK or simply pick at a retail store.
Birmingham Brewing Company's gluten free and vegan pale ale scored highly across categories in Quality, Value and Packaging, receiving the ultimate seal of approval in the global beer industry. Since its launch in 2020, Sober Brummie has won multiple Gold Awards from recognised industry bodies.
Brewed with the charity's core purpose in mind, people can enjoy the refreshing citrus drink and be able to drive afterwards. Five per cent of the sale of each Sober Brummie is donated to the charity's advanced pre-hospital emergency service.
Pam Hodgetts, corporate partnerships manager at Midlands Air Ambulance Charity said, "We are really pleased to see Sober Brummie be recognised by the London Beer Competition as Non-Alcoholic Beer and Best Beer for Quality. Each sale of this delicious drink directly supports our vital service.
"It is thanks to local businesses showing their support that we are able to continue funding lifesaving missions. A huge thanks goes to Birmingham Brewing Company for their continued commitment to our service, it's been a pleasure seeing Sober Brummie go from strength to strength."
Paul Harwood, owner and founder of Birmingham Brewing Company added, "We are really proud to accept these awards for Sober Brummie. In contrast to most low and non-alcoholic beers, our 0.5 per cent ABV brew is brewed in a traditional way to retain its flavour. Being recognised by the London Beer Competition shows that we are making the types of beers that beer drinkers want to buy and enjoy, and that the industry wants to list.
"We are delighted to continue our partnership with Midlands Ambulance Charity, promoting the benefits of choosing the sober option while supporting the charity's future lifesaving missions."
For more information, please visit the Sober Brummie webpage.