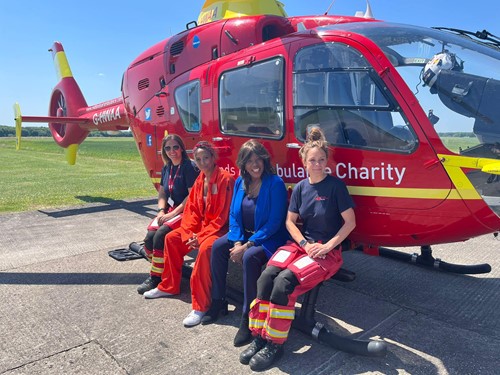 Wolverhampton soul singer, Jaki Graham has pledged her support for Midlands Air Ambulance Charity by challenging her daughter, BBC West Midlands radio presenter, Natalie Graham to a night behind bars for the charity's 'Jail or Bail' event.
Taking place on Friday 7th July 2023, Jail or Bail is the charity's corporate fundraising challenge where local businesses and organisations sentence their CEO or a member of their senior leadership team to a night in Shrewsbury Prison. Sponsored by Aico, each 'inmate' will have just 24 hours to raise a £600 bail, with all proceeds going towards the charity's helicopter-led emergency service.
After attending the charity's Recognition Awards and Charity ball last year, Jaki, who is known for singing a number of hits including 'Could It Be I'm Falling In Love' and the aptly named 'Set Me Free', wanted to support the charity further. Jaki is conveniently on tour with Shalamar during the event, so she has instead challenged her manager and daughter, Natalie, to undertake the fundraising task!
Ahead of the event, the charity welcomed Jaki and Natalie to its Tatenhill airbase in Staffordshire, where they learned more about the charity's clinical operations.
Natalie said: "I am really excited to take on the challenge of a night behind bars all in the name of charity! Midlands Air Ambulance Charity provide a vital service across the Midlands Counties, and you never really know when you might need their urgent critical care. I encourage everyone show their support on the 7th for an amazing cause, as well as see me endure a night of surprising challenges."
To learn more about the event, or sign up your boss to a night in the cells, visit the Jail or Bail event page.
Find out more about Midlands Air Ambulance Charity, visit the website and follow the organisation on social media.