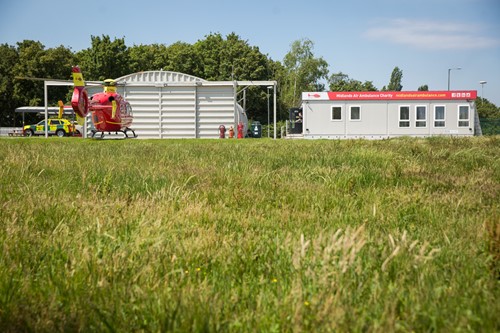 Midlands Air Ambulance Charity is inviting communities across the Midlands to take part in the second of its virtual airbase open days. Sunday 13th September 2020 will see the charity's Strensham airbase in Worcestershire virtually open its doors for a VIP tour.
Two of the charity's popular events – its airbase open days – had both been cancelled due to the COVID-19 pandemic. The charity's first virtual open day took place at its Tatenhill airbase in Staffordshire, in late June, whilst most of the UK's lockdown measures were still in place.
Sunday 13th September 2020 was set to see crowds of people visit Midlands Air Ambulance Charity's Strensham airbase in Worcestershire. An annual occurrence, the open days provide people with entertainment, live crew demos and stalls showcasing the amazing work of all of the region's lifesaving emergency services provision.
Following the Government directive to continue socially distancing as we ease out of lockdown, Midlands Air Ambulance Charity has made the necessary decision to also make the second of its beloved airbase open days virtual via its Facebook page – Facebook.com/MidlandsAirAmbulance
The day will differ slightly to the Tatenhill airbase open day, as Strensham is also home to one of the charity's critical care cars. Those interested in going behind-the-scenes can expect:
Virtual tour of the airbase
Tour of the helicopter aircraft, rapid response vehicle and critical care car
Short aircrew demonstration of how they tend to an incident scene
The virtual event is free to get involved with, however, the charity do have an online bucket collection which closes on the date of the Strensham open day, which gives supporters the option to donate in one of the following ways:
Alternatively, you can send a one off donation direct to the charity through its website: midlandsairambulance.com/donatenow
Or if you prefer to text to donate, you can do so by simply, texting MISSIONPOSSIBLE as one word, followed by the amount of your choice to 70085. (For example, MISSIONPOSSIBLE £3). Please note, you will be charged your donation amount and one standard rate message.
Emma Gray, fundraising and marketing director for Midlands Air Ambulance Charity, explains: "Following the success of our first virtual open day at Tatenhill and as the charity is set to see a 48 per cent deficit in fundraising income, we are pleased to offer our Strensham airbase event virtually too.
"Throughout the pandemic, the demand for our rapid response, pre-hospital emergency service did not falter, which is why we are focusing on engaging with the people and businesses in the communities we serve to give them a unique insight into the critical work we do, and to demonstrate their donations are vital in supporting our lifesaving cause."
To find out more about Midlands Air Ambulance Charity, visit the website at: midlandsairambulance.com or follow the organisation on social media.