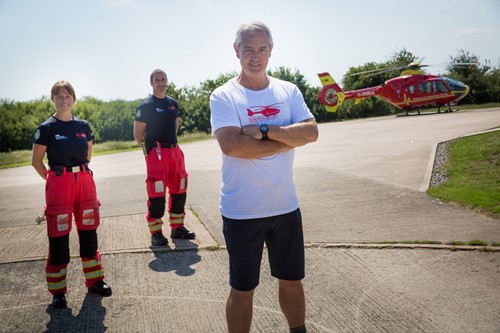 Local Worcestershire magistrate, Chris Devney, is once again putting his best foot forward for Midlands Air Ambulance Charity, to raise funds for the lifesaving service and mark its 30th year in operation.
58-year-old Chris already challenged himself to walk 100km between two of the charity's airbases last summer. To challenge himself again, and to mark the 30th anniversary of Midlands Air Ambulance Charity, Chris will be walking between each of the charity's airbases, three of the charity's shops, its Stourbridge HQ and the original airbase at Hagley Hall.
The mammoth challenge (called Chris's Air30 Walk) will take Chris, who is also a volunteer for Midlands Air Ambulance Charity, six days to complete, and totals over 240km (150 miles), incorporating all of the charity's places of importance from its 30-year history.
Fellow volunteer and town crier, Peder Nielson, will also be supporting at a number of locations as Chris arrives, marking his achievements along the way.
Commenting on the huge challenge he faces, Chris said: "In my former role as a police officer in Telford, Shropshire, I attended many road traffic collisions which required the help of Midlands Air Ambulance Charity aircrew, and I've seen first-hand the impact their clinical expertise can make on scene; literally saving lives."
"Eleven years ago, I was sadly involved in a road traffic collision myself as a motorcyclist. It was thought at the scene that I would not survive, but on hearing the local air ambulance coming to my aid, I was confident I would be okay.
"Midlands Air Ambulance Charity provides a vital service to all communities of the six counties it serves, by providing critical care to those that require it, at the time they need it the most. 'Chris's Air30 Walk' is the hardest physical challenge I'll have ever taken on, and anything I raise will go to Midlands Air Ambulance Charity so they can continue saving lives."
Chris will begin his journey on Sunday 9th May at 10am, starting at the Walsall charity shop, and will complete the challenge at the Strensham airbase on Friday 14th May.
There is an open invitation to anyone who wants to join Chris en-route (socially distanced, of course), whether that be for a few steps or a few miles. Chris will be easily trackable via his Facebook page: Facebook.com/chrisair30walk
To help support Chris during his 240km walk for charity, you can visit his JustGiving page: justgiving.com/fundraising/chris-devney
Emma Gray, chief operating officer for Midlands Air Ambulance Charity said: "It's commendable that Chris is once again taking on a huge challenge like this in support of our lifesaving charity, and his commitment to our cause shows no bounds.
"With no Government or NHS Charities Together funding, we're so grateful to have people like Chris who continue to go above and beyond for our charity, to help us raise the funds we need to keep saving lives."
To find out more about the organisation, visit the website and follow the charity on social media.
Image caption: (L-R) Critical care paramedics, Karen Baker and Julian Spiers with dedicated fundraiser, Chris Devney. (Photo was taken with previous COVID-19 guidance in place – masks were not deemed compulsory at time photo was taken.)