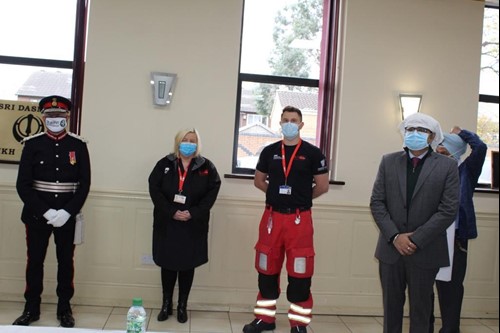 The Sri Dasmesh Sikh Temple in Birmingham has made 22 lifesaving missions possible for Midlands Air Ambulance Charity, following a £21,000 donation.
During the first national lockdown, Lozells-based Sri Dasmesh Sikh Temple responded to the local charity's fundraising plea and chose to support the lifesaving service. Rajinder (Roger) Beghal, a representative and committee member for the Sikh Temple, suggested his fellow members collected funds from worshippers for its charity fund to be donated to help NHS services and local charities during the COVID-19 pandemic.
Thanks to worshippers' generosity, £42,000 was donated to local hospital trusts. However, Rajinder did not want to stop there, along with two other committee members, Kulwant Singh Gora and Ram Lubhaya Saglani, a fundraiser commenced to collect additional funds.
With the help of his granddaughter, Reeha Beghal, Rajinder, along with committee members, Ram and Kulwant quickly succeeded his target of £50,000 and raised a staggering £59,000 which was planned to be shared with other local, lifesaving services. £25,000 of this was donated to Birmingham Children's Hospital funding two kidney dialysis machines and a further £13,000 was given to The Dudley Group NHS Foundation Trust to purchase televisions for its wards.
The remaining £21,000 was donated to Midlands Air Ambulance Charity at a cheque presentation in October, just before the second national lockdown commenced. The figure donated to the rapid response, pre-hospital emergency service has made 22 lifesaving missions possible – seven air ambulance missions and 15 missions in the charity's two critical care cars, one of which serves Birmingham and the Black Country.
Emma Gray, fundraising and marketing director for Midlands Air Ambulance Charity, says: "As a charity which does not receive Government funding for our daily missions, we are extremely grateful to the generosity and compassion shown by all at the Sri Dasmesh Sikh Temple.
"The amount received will potentially save 22 lives of some of the Midlands most critically ill and injured patients in the local area."
Rajinder Beghal, committee member and representative for Sri Dasmesh Sikh Temple, adds: "We at Sri Dasmesh Sikh Temple feel it's our role in the community to show we will stand with the country in this time of need. In total, we have donated £101,000 to lifesaving services and charities since the beginning of the COVID-19 outbreak."
For more information on Midlands Air Ambulance Charity, you can visit midlandsairambulance.com and follow the organisation on social media.