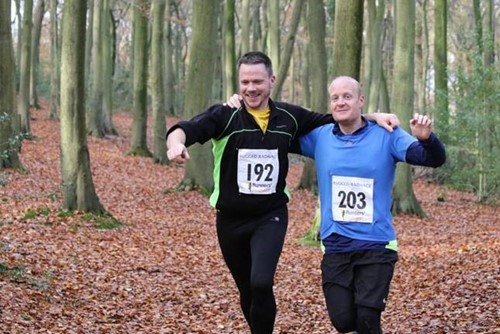 (Caption: L-R Matt Hardwick and Adam 'Zoom-Zoom' Merriman)
Gloucestershire locals Matt Hardwick and Adam 'Zoom-Zoom' Merriman are taking on the mammoth challenge of two trail runs over one weekend in aid of Midlands Air Ambulance Charity.
On Saturday 12th June, the brave pair will be taking part in the Offas Dyke 15 Mile Trail Run, followed by the Llangollen 50km Ultra Trail Marathon the following day. Both off-road events total an ascent of 10,000ft.
Despite having a target of £1,000, the pair have already raised an incredible £3,200 on their Just Giving page, which can be accessed here: justgiving.com/fundraising/matthardwick1980  
Matt Hardwick, who has previously supported the lifesaving air ambulance service, said: "I am determined to raise as much money as possible for Midlands Air Ambulance Charity as it provides an invaluable service that can mean the difference between life and death to so many people. I'm so grateful for any support and donations, no matter how small!"
Nicole Beebee, Gloucestershire fundraising lead for Midlands Air Ambulance Charity, said: "On behalf of the charity, I'd like to say a massive thank you to Matt and Adam for taking on this huge challenge! It's certainly going to be a tough weekend for them, but their determination and drive has not gone unnoticed.
"Our charity receives no Government or NHS Charities Together funding, so we're thankful for Matt and Adam's fantastic efforts so far, and those who have donated so generously."
To find out more about the charity and to get involved with its anniversary activities, visit the website and follow the service on social media.