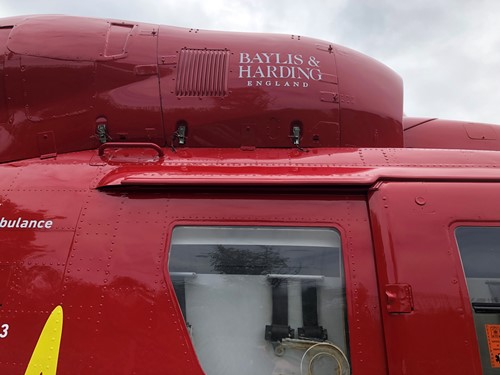 Baylis & Harding, the family-owned Redditch-based British beauty brand that specialises in luxury hand washes and gift sets, will support Midlands Air Ambulance Charity over the next two years with the pledge of £150,000.
The six-figure sum will help the charity fund ninety missions by air ambulance and critical care car, helping to save countless lives. As a thank you for Baylis & Harding's generosity, Midlands Air Ambulance Charity has added the company's logo to its G-OMMA helicopter, stationed at its airbase at Strensham Services on the M5 in Worcestershire.
Tania Slater, co-founder of Baylis & Harding, said: "Any one of us could need the advanced care of Midlands Air Ambulance Charity's specialist clinicians. Its work is truly inspirational, and we're honoured to be associated with this lifesaving service for the next two years."
Emma Gray, chief operating officer at Midlands Air Ambulance Charity, added: "Baylis & Harding's substantial donation will go a long way to help raise the £10 million we need each year to remain operational. We want as many people as possible to know how proud we are to have the support of such a generous local business. The Baylis & Harding logo, which will be visible while our Strensham helicopter is in flight, will highlight the partnership between our two organisations."
As part of Baylis & Harding's support, the company has sponsored Midlands Air Ambulance Charity's demonstration helicopter pod which attends events and schools, giving people of all ages an insight into the internal workings of an air ambulance.
Baylis & Harding, which has been based in Redditch for more than ten years, has reached international fame since its launch in a barn under Spaghetti Junction in 1970. It specialises in luxury bath and body products that are today found in one in two UK households and sold in over 50 countries.
Find out more about Midlands Air Ambulance Charity by visiting the charity's website and follow the organisation on social media.