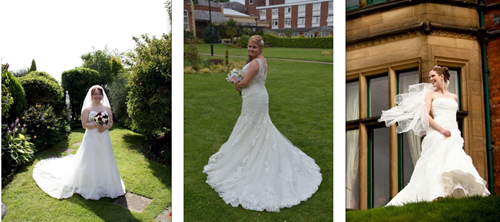 Regular fundraiser for Midlands Air Ambulance Charity, Linda Fownes from Sedgley, will be donning her wedding dress for a walk to raise money and save lives.
Due to the current Government directive to assist with the containment of Coronavirus, the charity recently made the necessary decision to postpone the 20th anniversary of its Walk4Life event, due to take place on Sunday 3rd May 2020.
Therefore, sponsored walks, like Linda's, which comply with social distancing guidelines are a great way for people to continue showing their support during these unprecedented times and also helps mark an important date in the charity's events calendar.
Linda and friends, Hayley Mason and Emma Edwards, will be walking in their wedding dresses on Sunday 17th May 2020 around the Gornal and Sedgley areas of Dudley. The trio agreed on Midlands Air Ambulance Charity as their joint charity because of what it means to Linda. They have set up a JustGiving page online to collect donations. If you'd like to sponsor them, you can find more information on how to do so here: justgiving.com/fundraising/wedding-dress-walk.
Linda, whose close family member lost his life in an incident that Midlands Air Ambulance Charity attended, has already raised £5,400 for the local lifesaving charity by selling a range of handmade, knitted items. She succeeded her goal of £5,000 – funding two vitally-important air ambulance missions.
Linda said: "I'd like to thank all at Midlands Air Ambulance Charity for their support in helping me reach my fundraising goal. It has helped my mum a great deal to get something positive out of the heartbreak she has endured."
Jo Bailey, events and area fundraising manager for Midlands Air Ambulance Charity, explains: "Its thanks to local people like Linda in the communities we serve and their generous donations that the crew are able to continue savings lives.
"We need the support of the general public, now, more than ever to continue donating to our rapid response, pre-hospital emergency service as we don't receive any funding from the Government for our daily missions."