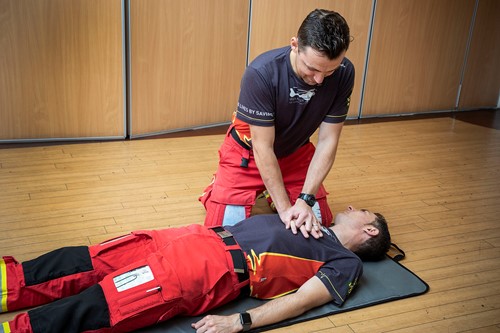 The Wesleyan Foundation, part of Birmingham-based Wesleyan, the specialist financial services provider, has supplied Midlands Air Ambulance Charity with a £5,000 grant to enable the service to deliver crucial lifesaving training in CPR and bleed control to the public.
Midlands Air Ambulance Charity attended over 930 out of hospital cardiac arrests and over 115 penetrating injuries in 2019. With the extremely serious nature of these incidents, bystander support before the advanced clinical care team arrives can make a vital difference to a person's survival.
Following a public staff vote, The Wesleyan Foundation made the commitment to the pre-hospital emergency service charity prior to the lockdown due to coronavirus. Therefore, when restrictions are lifted and with social distancing in place, the charity will deliver 'Mission Support' training to businesses, organisations and community groups in the Birmingham area, giving them practical advice on how to undertake CPR and utilise severe bleed control techniques, for example for those who have suffered a stab wound. In addition, the funding will provide each group with a bleed control kit, which contains several necessary items, including bleed control gauze and tourniquet for limb injuries.
Emma Gray, fundraising and marketing director for Midlands Air Ambulance Charity, states: "Our Mission Support training offers two hours of crucially important lifesaving techniques. As well as practical skills, each participant will receive an official certificate, and handy Mission Support pocket guide.
"The support from The Wesleyan Foundation has been extremely welcome and in due course will enable us to offer our training to a greater number of businesses, organisations and community groups within the region, which could help save more lives in the Midlands."
Caroline Hill, Chief People and Strategy Officer at Wesleyan, said: "These are challenging times for everyone and we're continuing to look at different ways we can support our trusted professions and wider community.
"Midlands Air Ambulance Charity is doing great work providing training for important lifesaving techniques across our community and we're proud to offer our support."
To register your interest in the Mission Support training, visit midlandsairambulance.com/training