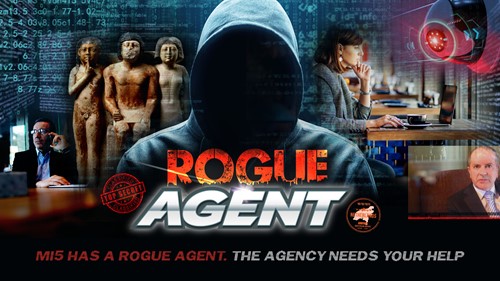 Escape Live has launched a new virtual escape room in partnership with Midlands Air Ambulance Charity. The escape room company, which has a base in Birmingham, needs you to take on a mission.
Your mission: as the newest recruit to MI5, it falls on you to uncover the identity of a Rogue Agent.
The online game can be played by one to six players in one location or multiple locations and is a great at-home alternative to quizzes and endless video chats. Zoom is the suggested platform for screen sharing when playing from multiple locations. The game costs £20, with £7.50 per game being donated to Midlands Air Ambulance Charity to help fund its rapid response pre-hospital emergency service.
Pam Hodgetts, corporate partnerships manager for Midlands Air Ambulance Charity says: "It's becoming more and more regular that we see our corporate partners choosing to support us in different and creative ways.
"We are delighted that Escape Live decided to take the route of donating a percentage of its sales to us in an innovative way, allowing gamers the option of supporting us when they purchase the new game."
About Rogue Agent: Whilst saving the world from all manner of terrorists and threats, a Rogue MI5 Agent has been growing his personal art collection and not entirely legitimately. The unknown agent has been stealing art and sculptures from across the globe.
MI5 is onto him though and it's up to you to collate the evidence against him and advise the agency of his whereabouts.
In order to do this, you will be given access to the Government's secret online portal which you must use to complete the case.
Jas Sodhi, managing director of Escape Live adds: "We are delighted to be working with Midlands Air Ambulance Charity. As a Midlands base business, we are always looking at ways in which we can support local charities. With most fundraising events cancelled due to COVID-19, we hope we are able to make meaningful donations to Midlands Air Ambulance Charity through this partnership."
To undertake the virtual mission and help make a Midlands Air Ambulance Charity mission possible, purchase, download and play the game here: www.rogueagent.online/MidlandsAirAmbulance
For more information on Midlands Air Ambulance Charity, you can visit midlandsairambulance.com and follow the organisation on social media.