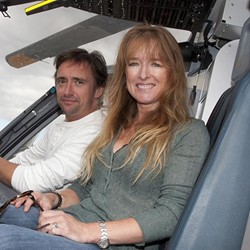 TV presenter and Top Gear star Richard Hammond and his wife, columnist Mindy Hammond, are helping to raise awareness of MAAC, as the charity and its cause are extremely close to the Hammond's hearts.
An air ambulance famously airlifted Richard following a near fatal crash seven years ago. In addition, Mindy's godson, Jobe Taylor-Davies, was airlifted to Birmingham Children's Hospital by the Midlands Air Ambulance after a life-threatening equestrian accident.
In September 2006, Richard was filming for the BBC TV show Top Gear at Elvington airfield near York, when his 370mph jet-powered Vampire dragster veered off the runway, flipped over several times and crashed on to grass. Richard suffered a significant brain injury as a result of the crash.  He was airlifted to Leeds General Infirmary in a matter of minutes and credits the air ambulance with saving his life.
The couple are now focusing their attentions to their local air ambulance service and have joined forces with MAAC.