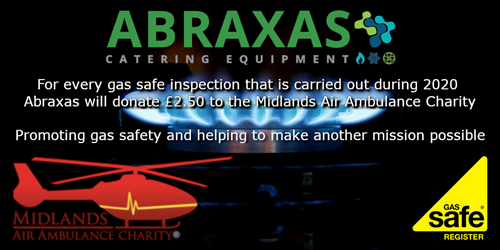 Supporting our charity for the third year running, Abraxas Catering will donate £2.50 to us from every gas safe inspection that is carried out during 2021.  
This is a fantastic way to raise awareness of the dangers of poorly maintained gas appliances which can cause gas leaks, fires, explosions and carbon monoxide (CO) poisoning and support our lifesaving rapid response emergency service at the same time.  
Abraxas average around 10 gas safe inspections a month, along with design and installation of commercial kitchens, servery counters & extraction and ventilation systems. 
For more information on what Abraxas Catering can offer please visit their website or call 01562 863 222.