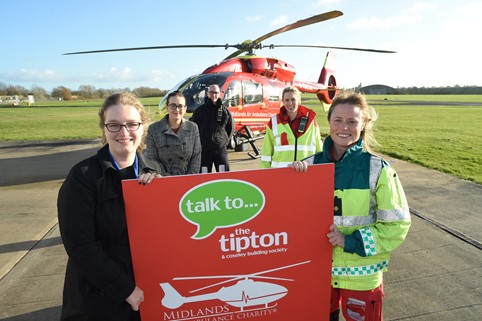 Take advantage of The Tipton's 30 Day Notice Midlands Air Ambulance Saver. Not only will you earn 0.40% gross/AER on your account balance, but our lifesaving service will earn funds at no additional cost to you.
The 30 Day Notice Midlands Air Ambulance Saver has a minimum opening deposit of £1,000 and customers can pay in a maximum of £100,000 during the lifetime of the account. A variable interest rate of 2.85% gross/AER applies and customers can make a maximum of three withdrawals per calendar year.
The Society will donate 0.10% to Midlands Air Ambulance Charity at the end of each year, based on the average balances held in the accounts at no cost to the saver.
Gross means the contractual rate of interest payable.
AER stands for the Annual Equivalent Rate and illustrates what the interest rate would be if interest was paid and compounded once each year. Interest is calculated daily and paid annually on 31st December.
Products can be withdrawn at any time. Rates correct as of December 2021. Terms and conditions apply. Compensation may be available from the Financial Services Compensation Scheme. Tipton & Coseley Building Society is authorised by the Prudential Regulation Authority and regulated by the Financial Conduct Authority and the Prudential Regulation Authority. The Society's Firm Reference Number is: 159601. The Society is a member of the Building Societies Association. Head Office: 70 Owen Street, Tipton, West Midlands, DY4 8HG.