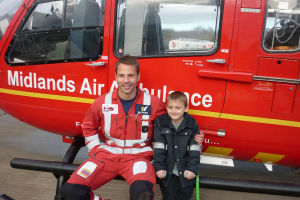 "Thank you for coming so quickly and helping to save my leg, and for looking after me in the air ambulance."
Like many children his age, outdoor adventurer eight year old Sam Aston was enjoying the long hot summer holidays outside him home in Saltwells, but a nasty accident with a car meant Sam had to rely on the Midlands Air Ambulance to save his leg.
Sam and his two brothers were outside making the most of the summer sunshine on Friday 10thAugust 2012. The boys were having a water fight and Sam was on his way back to his house to reload his water gun.
Sam's mum Jo explains what happened next: "Sam's dad Mark and I were in the garden when we heard a screech of breaks and a bang and we just had a terrible feeling it was one of our boys. We ran to the front of the house to see our two older sons screaming 'it's Sam mom'. I can't tell you how worried we were."
The driver did his best to stop, but unfortunately it was too late and Sam's leg got caught in the wheel arch of the car, breaking it in six places, plus he sustained an open fracture.
"Sam was so brave, he was sitting up and just kept saying sorry to everyone for what had happened," Jo adds. "The police and land ambulance arrived very quickly and Sam was given immediate pain relief, it wasn't until flight paramedic Tom from the Midlands Air Ambulance came and spoke to us and said Sam would need to be airlifted to the Birmingham Children's Hospital that we realised just how seriously injured he was.
"The flight paramedics Tom and Greg were brilliant, while looking after Sam they also made sure the whole family was ok and explained what was going to happen. It was all so surreal and although we were all scared, Tom assured Sam that he would look after him all the way to the hospital in the helicopter. I was so grateful and relieved as Sam started to smile and Tom certainly kept his promise, he was wonderful."
The Midlands Air Ambulance aircrew transferred Sam to the hospital in under ten minutes, where he spent six hours in A&E before being transferred to a ward. The following morning Sam had a three hour operation to attach an external fixator to his leg while the breaks healed.  He had a further skin graph operation before spending 12 days in the hospital recovering.
Jo continues: "Sam is such a fighter, after the first few days he didn't even want pain relief, he's amazing. The care he received at the scene of the accident and in the air from the Midlands Air Ambulance, and the treatment he had from the staff at the hospital staff was fantastic."
Sam had two weeks off school, before returning in a wheelchair, and he also used a frame to get about which the school and his friends assisted him with. The fixator was in place for seven months, and Sam went through several sessions of physiotherapy to help him walk properly again.
As a keen Manchester City fan, Sam has made a remarkable recovery and is now back on the football pitch as goalie, and he can't wait to get his roller skates on soon too.
Jo says: "To everyone at the Midlands Air Ambulance Charity, you are an amazing team, it's not just the paramedics that count, it's all of you. I have a collection tin and we're always keen to assist the amazing people who came into our lives and supported us."
Since Sam's accident, he and his family visited MAAC's Strensham airbase in Worcestershire and met up with Tom. Sam was also one of the special guests who helped the charity open the new headquarters in Stourbridge.
Sam has this message for his flight paramedic Tom: "You will always be my hero and I will never forget you."