Tipton & Coseley Building Society has ended the year on a high by smashing its 2018 fundraising target for Midlands Air Ambulance Charity.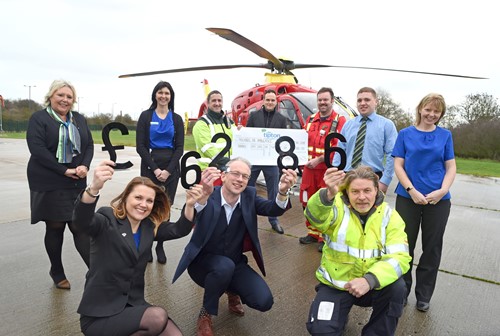 The Society had originally set a target of £5000 for 2018, but ended the year with a total of £6286 donated by customers and staff.
The money was raised via a number of events including a sponsored sky-dive, bake off and a 130 mile indoor bike ride.
Richard Newton, CEO, The Tipton said:"We're proud to support Midlands Air Ambulance and delighted to have raised over £6000 this year.
They help save many lives each year and our staff have really taken to such a worthy cause that receives no government funding. I'd like to thank our customers and staff for supporting our fundraising during the year and we look forward to raising even more in 2019".
Jon Cottrell, Corporate Development Executive at Midlands Air Ambulance said:"Each Midlands Air Ambulance Charity mission costs on average £2,500, and is entirely funded by donations. We would like to say a huge thank you to The Tipton for their support, which really will help to save lives."