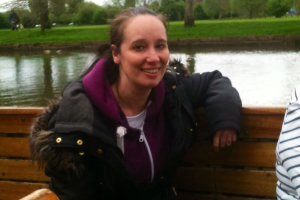 Mum of three Charlotte Lloyd suffered serious injuries in a road traffic collision while on a motorbike just under a year ago and, as she continues her recovery, she's praised the "vital" contribution Midlands Air Ambulance made to ensuring she received urgent medical attention.
39-year-old Charlotte suffered a broken leg and elbow when she, as a pillion, and her partner, Marc, were involved in the accident in the Midlands in June 2014. Riding regularly was a big part of an active lifestyle she enjoyed that also included swimming and ice skating as well as spending time with her family.
She had been preparing to start a new job the following day when their pair set out on their motorbike on a sunny afternoon and travelled down the Pennine Way, B5080 in Tamworth to meet her younger brother. Suddenly, after missing its turning the car travelling in front performed an emergency stop. As the road surface was very badly broken, the wheels of the bike weren't able to grip. As the bike started to snake badly, Charlotte was thrown into the air before landing in the road.
The Midlands Air Ambulance helicopter from Tatenhill was dispatched to the scene, with paramedic, Ian Walley, among the aircrew.
Charlotte recalled. "There was a lot going on at the scene and as well as being in a lot of pain I felt very sick.
"I remember Ian introducing himself to me. He and the rest of the aircrew played a vital part on the day as they got me to hospital so quickly. They worked really well with the land ambulance and explained everything to me and were really comforting and patient, and warned me it might be a little noisy. I was in so much and, up to that point, I wasn't responding to anything I'd been given to try and make that better.

As Charlotte was experiencing such extreme pain, the aircrew were able to administer advance relief at the roadside before she stabilised and airlifted to the Queen Elizabeth Hospital in Birmingham.
Now back home, she is slowly recovering from her injuries but admits the incident had a massive impact on her life. She added: "I had never been to hospital before and had to stay for a week, undergoing scans and a session in theatre. I'm still attending physiotherapy appointments there and am awaiting a date for more surgery.
"Even now I still cannot walk properly or do certain things, and I do find it quite frustrating sometimes."
However, she was still determined to meet the aircrew who helped her when she needed it most to offer her appreciation and, after travelling to Tatenhill and spending time with the team, she added: "I met up with Ian just because I wanted to thank him and what he did and all of the emergency services did for me that day.
"I had already known that a lot of bikers are airlifted by Midlands Air Ambulance but I can now truly say that they do fantastic work and help save a lot of lives."
Charlotte continued to show her support for the charity when she attended the Bike4Life Festival at RAF Museum Cosford in 2015.