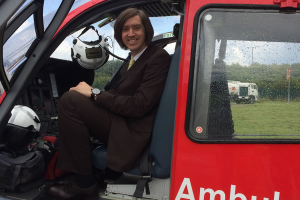 Still feeling the effects of his accident more than a decade after being airlifted by MAAC, Jeremy Beeston-May knows more than most how a life can change in an instant.
Having enjoyed breakfast with his girlfriend Helen on a sunny August morning in 2003, Jeremy was travelling to Worcester to visit his father. With windows down and music playing, he was looking forward to an upcoming holiday he and Helen were due to take to Malta when his world was turned upside down.
Reaching the outskirts of Kidderminster, Jeremy's journey had been uneventful, until he saw a motorbike starting to overtake a stream of cars on the opposite side of the road, heading straight for him.
He recalls: "I braked hard and turned to the left; the bike missed me by a matter of inches and my car hit the kerb, left the road and mounted a verge. As I fought to control the car, I hit a bump and the steering went. I was thrown back onto the road and hit an oncoming car head on."

Jeremy's injuries were substantial and varied, including a broken pelvis, tibia and fibula, toes, ankle and jaw to name only a few, yet he adds: "There was no pain, no hysterics, just disappointment that I wouldn't be able to go on holiday. It was going to be my first holiday in six years and our first together. But I knew, lying there, that it just wasn't going to happen."

The Midlands Air Ambulance was dispatched from the nearby Strensham airbase to attend the scene. Within minutes, Jeremy was stabilised by the aircrew and was airlifted to the Selly Oak Hospital in Birmingham. While in contrast to the 17 hours he spent in reconstructive surgeries to a range of injuries, the treatment he received by the roadside from the MAA crew undoubtedly left a lasting impact.
The legacy of this life saving contribution was further cemented for Jeremy when he travelled to the Strensham airbase to visit the aircraft he travelled in back in 2003.
Now a keen supporter of the charity's work, Jeremy explains: "I truly believe that I owe my life to the guys that rescued me that day and to have the chance to say thank you to them was really important to me."

Jeremy is able to use his experiences in his job as a wound care specialist. He'll continue to overcome physical obstacles in the coming years – including a likely hip replacement – but he clearly remains optimistic. Rather than consider himself unfortunate to have suffered such severe injuries in the blink of an eye, he choses to reflect on the day that changed everything with a prevailing sense of thanks and gratitude, not least toward the charity.
He comments: "Many accidents have happened on that same stretch of road. I never felt any anger, or ever been upset about any aspect of my crash. I never let myself think I wouldn't get back to normal, to me that wasn't an option."
We're pleased to say that Jeremy and Helen have now been together for 13 years and became happily married eight years ago. Jeremy concludes: "Rather than remembering that day as the day I almost died, I treat it as the day I had a narrow escape. Now I have a second birthday every year, with presents, cards and cake. Everything I've been able to experience in life following my accident is thanks to the Midlands Air Ambulance Charity and I'll be eternally grateful to them for that."