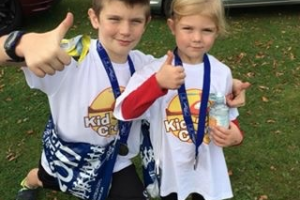 Six-year-old Lucas, and his baby sister Ava aged one, were heading out to celebrate their mum Kerrie's birthday in Leominster, Herefordshire in May 2014. Travelling with dad Shane and grandad Thomas, they were stationary at a junction, when a car hit them side on.
Both children, Kerrie and Thomas, suffered severe injuries and were unconscious.
A West Midlands Ambulance Service spokesperson said in a report on the day: "A boy believed to be six years old, and a girl believed to be one year old received treatment at the scene for serious head, pelvic and abdominal injuries.
"A woman believed to be in her 20s, who was also travelling in the back of the car, suffered serious head injuries and received emergency treatment at the scene.
"The front seat passenger in the car, a man believed to be in his 60s, received emergency treatment for serious chest injuries."
Due to the serious nature of the collision, four air ambulances
were called to the scene, including two Midlands Air Ambulances, the Welsh Air Ambulance and the Warwickshire and Northamptonshire Air Ambulance.

Critical care paramedic Steven Mitchell, and Dr Jon Bingham,arrived on scene in the MAAC's helicopter from RAF Cosford.
Steven recalled: "They flew Lucas to Birmingham Children's Hospital. Critical care paramedics Greg Ambler and Stuart Evans also attended in the MAAC's helicopter from Strensham, and airlifted Ava to Birmingham Children's Hospital.
Steven continued: "By land, the journey to Birmingham Children's Hospital could have taken nearly two hours, so having the ability to fly the children to the best hospital for their injuries in less than time, would have made a hugely positive impact on their chances of recovery."
Thomas was airlifted to Queen Elizabeth Hospital Major Trauma Unit by Wales Air Ambulance, and Kerrie was also airlifted to the same hospital by the Warwickshire and Northamptonshire air ambulance. The children's dad, Shane, was taken by land ambulance to Hereford County Hospital with a broken collarbone and cuts and bruises.
Kerrie and her children were all placed in induced comas in intensive care for seven days, then moved to wards in their separate hospitals.
Thomas was discharged after two days.
As Kerrie has no memory of the accident, it was only later on that she learned of her children's injuries. Lucas had suffered internal injuries to his organs, had a broken leg which was pinned and plated for 12 months, and also had a brain injury which will affect him for the rest of his life.
Ava suffered a broken pubic bone, a punctured lung and internal injuries.
Kerrie recalled: "I had a broken pelvis which had to be pinned and will unfortunately never be removed. I also had internal injuries, and a brain injury. The worse thing though was being separated from the children, as it was two weeks before I could see them."
Lucas and Kerrie's injuries were so serious that doctors would not reassure the family of their survival.
Ava was discharged from hospital after three weeks in hospital.
Kerrie joined her daughter a few days later, and they stayed in the Ronald McDonald house with Shane to be near Lucas, who was discharged a week later.
Kerrie continued: "Before the accident we were a happy, healthy, worry free family. We have overcome so many difficult times since, but we remain a strong family unit.
"Over three years later, Lucas still has to attend doctors' appointments at Birmingham Children's Hospital, and I still have issues with my pelvis, but we have been through the worst so we can get through anything.
"Since the accident we have supported Midlands Air Ambulance Charity by raising funds for them and attending their events. Lucas and Ava ran the junior and mini runs at the Birmingham Marathon in 2017, and both want to do more to help.
"After speaking to medical professionals who were at the scene, they were expecting fatalities but amazingly everyone pulled through."
Kerrie, Shane, Lucas and Ava welcomed baby Alfie into their family in April 2016.
"The air ambulances were absolutely amazing and without them attending the accident so quickly and flying the family when they did, we may not all still be together, and we wouldn't have baby Alfie."