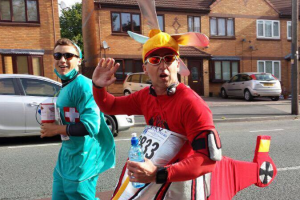 On the 17th November 2007, Trev Foster aged 37, and his wife Deb were watching their son Josh play in a football match for his school team, Wolverhampton Grammar. The family headed home from the game in their American pickup truck. 
While travelling from Codsall Wood to Bishops Wood in Wolverhampton, they were involved in an accident. This resulted in their car leaving the road and colliding head on with a tree at speeds of up to 60mph. 
The impact forced the engine towards Trev's legs, pinning him to the seat – splitting one of his kneecaps and cutting the other. Trev's wife, who was sat alongside him, sustained bruising and their son, who was 11 at the time and also sitting in the front of the vehicle, was luckily unscathed. 
Trev recalls: "We were very lucky to have a First Responder just two cars behind us, who was able to administer first aid whilst we waited for the ambulance to arrive. 
"I don't remember feeling any pain, only worrying that my family were ok." 
Karen Baker, critical care paramedic for MAAC explains: "The Midlands Air Ambulance would immediately be dispatched to reports of a patient trapped in a vehicle, especially a vehicle involved in a high speed collision. 
"At this particular incident, the crew from RAF Cosford, would have focused solely on Trev due to the nature of his injuries. We always treat every patient with an 'ABC approach' checking Airway, Breathing, Circulation first, before identifying and treating other injuries. 
"By doing this we can also assess how critically the patient needs to be released from the vehicle. If life-threatening injuries are found then he would have been extricated as quickly as possible but in this case, more time could be allowed in order to reduce further injury and pain. 
"The aircrew would have then worked in conjunction with the fire brigade to extricate Trev without causing him further injury or pain. He would have been immobilised to protect his neck and spinal cord and his legs would have been neutrally aligned and splinted into position. Again, all with the intention to minimise further pain and injury." 
The aircrew assessed Trev's injuries and realised the best course of action was to airlift him to the nearest hospital, so he was placed in a neck brace and flown to New Cross in Wolverhampton. 
On arrival at the hospital, medical staff removed parts of the car from Trev's knees. 
He explains: "We had tickets to see Take That on the evening, so I insisted they operate without a general anaesthetic as I was hopeful we could still go. 
"It was very surreal watching it happen and hearing the metal on metal sound as they dropped parts from the car removed from my knee into the silver bowl. It quickly became apparent that we wouldn't be able to go to the concert as both my wife and I were unable to walk." 
Determined to make a quick recovery, Trev set his sights on the Wolverhampton Half Marathon which was just ten months away. One month before the event, Trev was signed off by his physiotherapist and raised more than £5,000 in sponsorship money. He split the funds equally between MAAC and the First Responders, and undertook the challenge wearing a very unique outfit. 
Trev continued: "I had a helicopter outfit made by a theatrical company in Liverpool, it was a lot of fun and definitely attracted attention. 
"The following year my son joined us, and I have done it every year since for different charities, always wearing wacky outfits! 
"You only realise how important the Midlands Air Ambulance is once you've needed it. The crew on the day were unbelievable and we will always be in their debt."