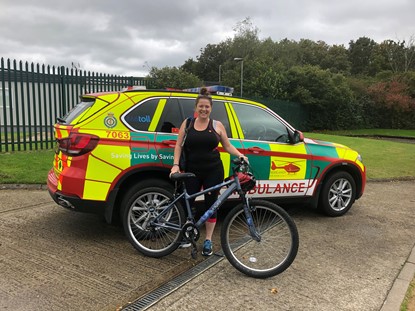 On Friday 12th July 2018, Emily Pringle was travelling to work along the A40 in Cheltenham when her car was involved in a head on collision, causing her vehicle to spin, knocking her unconscious.
Emergency services rapidly arrived on scene, including the helicopter from RAF Cosford airbase with a critical care paramedic and doctor on-board.
Just some of the injuries Emily suffered included multiple breaks in the neck, lower spine, right femur, ankle and foot, six broken ribs, a smashed pelvis, a ruptured carotid artery, perforated liver and spleen, and a brain injury.
While the fire service worked to extract Emily from her vehicle, the aircrew administered strong pain relief to stabilise her. Emily was drifting in and out of consciousness, and needed emergency medical attention fast, but she was trapped in the car.
It took over 90 minutes to carefully release Emily, at which point the aircrew rushed to safely get her on-board the aircraft and transported her to the nearest major trauma centre.
Unfortunately, upon arrival at hospital, Emily was not in a stable enough condition to undergo any surgery due to internal bleeding from various vital organs. She spent the next three days in intensive care before undergoing two major operations.
She spent a further four weeks in hospital before she was finally well enough to return home to her four-year-old daughter.
Emily says: "Without the Midlands Air Ambulance team, and the rest of the emergency services, the doctors and nurses, I would not be here today. I am eternally grateful, as are my family and friends. Midlands Air Ambulance in particular will always be close to mine and my family's hearts.
"I still don't think I've really processed what happened to me. I don't want to think about the fact that I nearly died. I now focus all of my time and energy on my daughter. She is still suffering from anxiety and trauma that was triggered from her mummy's involvement in such a bad accident. It will take a long time and a lot of trust to get that
security back for her."
Emily now volunteers with MAAC, and recently undertook an 18-mile bike ride in 2019 from her house in Cheltenham to the Strensham airbase, raising £1,500. This was a massive achievement for Emily, as her physical and mental recovery is still ongoing.
Emily has written a book about her experience and how her determination has got her back on her feet. The book, 'This Girl (Most Certainly) Can' is available on Amazon, and all profits are being raised for MAAC.
Find out how you can support our lifesaving work and help more people like Emily here.