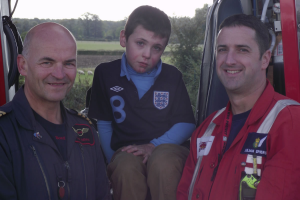 It was a typical spring evening and while their mums prepared dinner, two young boys were playing nearby. Gemma, from Bromyard, Herefordshire, explains the events of May 30th 2012 and how close she came to losing her son. 
Ollie Halling-Smith, then 8, was playing with his friend Morgan, when he ran into the house screaming the word 'petrol'.
Gemma recalls; "He had no top on and was white in colour. His dad Ryan rushed Ollie to the bathroom while I called 999. We were pouring water over him but he was blistering in front of us, it was horrific to watch and we felt helpless."
A rapid response vehicle, a paramedic area support officer and the Midlands Air Ambulance from Strensham raced to the scene.
Both boys had suffered severe burn injuries from a barbecue. Ollie was treated for multiple burns to his face, chest and arms. His burns were dressed and pain relief was given to him as he was airlifted in a race against time to Birmingham Children's Hospital.
Morgan was treated for burns to his head and chest before being taken to Worcestershire Royal Hospital by land ambulance. He was discharged the next day.
Sadly, Ollie didn't have such a lucky escape. His injuries were so severe he was placed in an induced coma for five days to take the pressure of his little body. He remained in Intensive Care at BCH for a further week and on the Burns Unit for another month.
Police revealed that three older boys were trying to cook food and poured petrol onto the barbeque before throwing the can onto the flames, where it exploded.
The incident left Ollie fighting for his life, with 37% burns across his neck, chest, arms and hands and scaring to his face.
Ollie spent six weeks in hospital, returning twice a week to have his dressings changed and every two months to see his consultant.
Having already gone through so much and undergone numerous skin grafts, doctors have warned he will need operations until he reaches 18, when they will assess his growth and the impact on his scars.
Doctors believe the majority of his scars on his chest and arm are permanent, but may fade as he gets older. 
He has a long list of lasting injuries. Ollie has to wear a compression suit for 23 hours a day and the scars on his armpit restrict his movement. Ollie will need physiotherapy for life.
Gemma feels that while Ollie understands most of what has happened, he sometimes gets frustrated. She explains; "Overall, he has been amazing, he really is Mr Independent. Luckily he isn't self-conscious but I worry about the long term, he doesn't look at himself any differently now, but I worry about how he will cope as he gets older."
Despite everything he suffered, Ollie went back to school in September 2012. "Going back has done him the world of good, he had missed his friends." adds Gemma.
Family and friends wanted to thank those that saved Ollie's life. The 'Help Ollie' team organised a pub-crawl, bingo night, and 'Duran Duran' tribute act.
In total 'Help Ollie' raised £3,000, which was divided between Ollie, MAAC, Burn Aid and BCH. £600 was donated to MAAC, with more fundraising planned. Ollie and his parents met the aircrew that saved their sons life on that tragic day.
"Ollie owes his life to the air ambulance. You are amazing people and an amazing charity, thank you just isn't enough."